If you are new to tarot, you might be wondering what tarot is used for. Is it only a tool for fortunetelling, or is it more to it? As the popularity of tarot has grown in recent years, the usage has broadened into a broad spectrum.
As a general rule, tarot is used for self-discovery, self-care, and wellness. A majority, 60% of tarot readers, use tarot cards for self-discovery and spiritual growth to help them find a more balanced life. Only 27% use tarot cards for divination, energy work, and psychic readings.
Don't be fooled by Hollywood horror movie productions picturing tarot as a tool for fortune-telling and scary devil worship! It's time to scrap that myth and shed light on all the beautiful things tarot manifests!
WHAT TAROT CARDS ARE USED FOR
Tarot is often depicted as a tool for devil worship and black magic. But in reality, it's far from the truth. Modern-day tarot practice focuses on self-development, self-care, and spiritual growth. It's a tool that supports complex decision-making when you need comfort and guidance in life.
The traditional usage of tarot fortune-telling is starting to get aged and obsolete. Most tarot readers seek guidance by accessing the inner wisdom stored in the subconscious and unconscious mind.
The future is not set in stone, and we have the power to change the outcome of our lives by knowledgeable choices. By learning more about ourselves through tarot, we can make better decisions in our lives. 
If you want to learn more about spirits and if the tarot can attract them, I interviewed Michelle Belanger, a renowned paranormal expert who has written more than thirty books in the mystical and occult field. You find the article below. 
WANT TO LEARN MORE?
Can tarot cards attract spirits or entities?
DIVINATION AND TAROT
Tarot can be used as a tool for attracting or communicating with spirits, entities, or energies. Note that this doesn't mean that you use it to communicate or connect with dark energies or spirits. Most readers only use tarot to connect to spirit guides or light energies.
Spirit guides help you and protect you on your life journey. They have a human origin and knowledge of the earthly challenges we face.
They are not dark or evil entities, quite the opposite. I always describe them as your guardian angel or protector. They are there to help you get through hard times and celebrate with you in good times.
SELF-DISOVERY AND TAROT
A majority of modern-day tarot readers use tarot cards for self-discovery and growth. With the help of intuition and introspect, the reader gains information stored in the subconscious or unconscious mind. 
As we go about our daily lives, we gather information that the brain can't process. This information is stored behind the veil of the conscious mind. When we are faced with a situation or challenge, we tend to "know" things without knowing why. This is the gut feeling. The gut feeling is the information or wisdom within surfacing.
You can access this information with the help of hypnosis and alike as well. Tarot is a great way to tune in and start to listen to your gut feeling.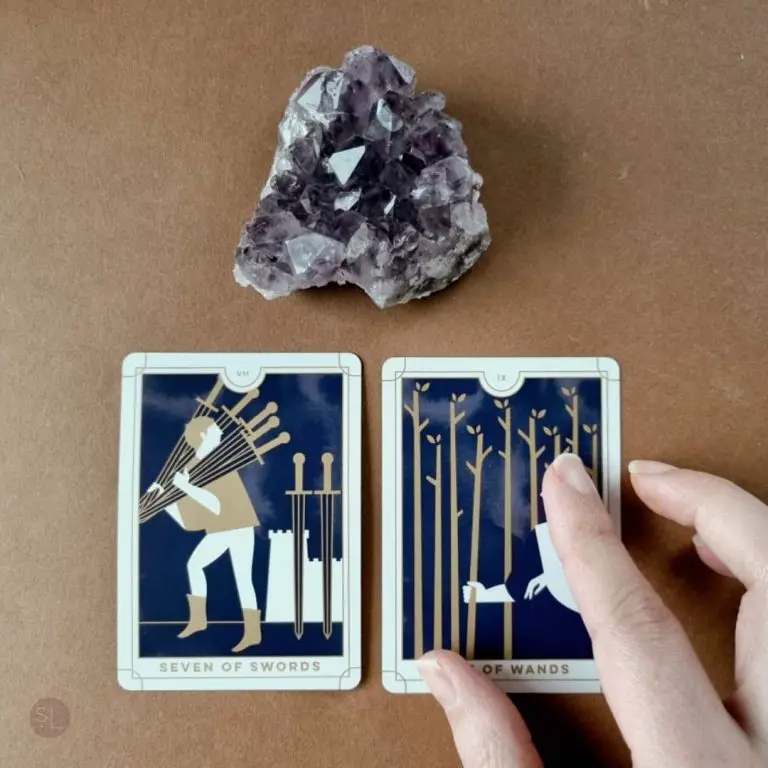 60% USE TAROT FOR SELF-DISCOVERY AND SELF-CARE
It's easy to debunk the old myth that the tarot is a tool for devil worship. It's not a tool to attract evil spirits as often pictured in the movies and pop culture. Most tarot readers use tarot cards for self-discovery, growth, and self-care. 
60% of the tarot readers asked in a survey answered they mainly used tarot for self-discovery and growth, self-care, or mindfulness. 21% responded they used tarot for divination, energy work, or psychic readings.
I think it's fascinating to notice the shift from fortunetelling to self-care. Fortunetelling and devil worship is what uninitiated people often believe that tarot is. 
I use tarot foremost for self-discovery and growth. As an empath and psychic, I can't turn off the dial all the time, but my knowledge comes from the Ether, not the cards. With that said, many find comfort in tangible "proof" of the messages received, and the tarot cards come in handy. I know many with the same experience as myself.
In the comments below my survey, many tarot readers shared their experiences and how they use the tarot. Many said they used tarot differently depending on their challenges and what questions they needed to be answered. They connected with the spirit guide in one reading and the next, working with intuition and subconscious mind. 
Tarot readers also used the cards for meditation. By meditating on a card, they gain deeper insights into the card's trait.
Many meditated on the cards to gain deeper insights into different aspects of life. As all the cards represent a human experience, you can work on parts of your life you struggle with. If you, for example, have a difficult time daring to try new things, you can meditate on the Fool's card. The Fool represents the start of everything, the jump into the unknown.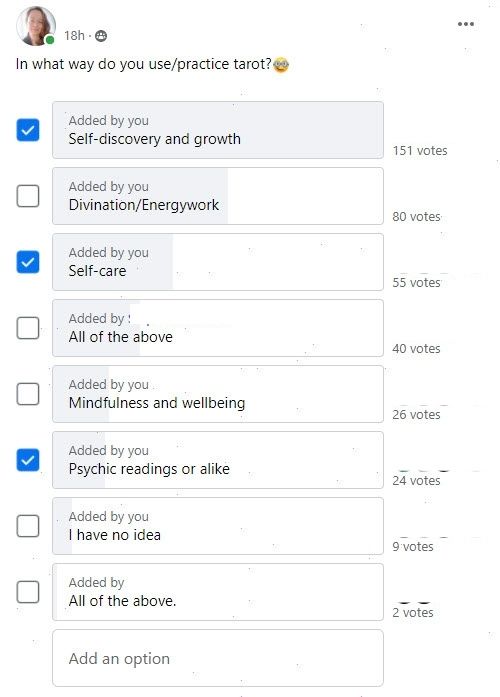 | Answer | Number | % |
| --- | --- | --- |
| Self-discovery and growth | 151 | 39% |
| Divination and energy work | 80 | 21% |
| Self-care | 55 | 14% |
| All of the above | 42 | 11% |
| Mindfulness and wellbeing | 26 | 7% |
| Psychic readings | 24 | 6% |
| I have no idea | 9 | 2% |
WANT TO LEARN MORE?
What a psychic tarot reading is
IN SUMMARY
Modern-day tarot is mainly focused on self-discovery and spiritual growth. It's also used for divination, but mostly to connect with spirit guides and light energies. It's a debunked myth that tarot cards are used for devil worship or black magic. 
60% use tarot for guidance and self-development, and 21% for divination and energy work. Tarot is also used for psychic readings, but it was less common than I thought. 
Many use tarot for different reasons during different passages of their lives. Tarot has the magical way of being there when you most need it when you need a friend and extra support in life.
Many start reading tarot when they are going through a challenging time in their lives. Sometimes, it is a blessing to ask questions you don't want to ask a friend or family. I often refer to my tarot decks as my best friends.
THE DEFINITIONS IN THIS ARTICLE ARE BASED ON THE RIDER WAITE DECK AND SYSTEM.