What is all the fuss about charging tarot cards? When you are new to tarot, it's hard to know what you are supposed to do – or not. When I started reading tarot, I was a bit intimidated by the whole thing, but relax; it's easier than you might think!
You charge tarot cards by adding energy into a tired tarot deck. 40% of tarot readers charge decks. Easy ways of charging your deck are blowing on it, singing to it, reordering and reshuffling the cards, or using cleansing crystals as selenite or clear quartz.
Charging tarot cards means you add energy to the cards. They bring you more accurate readings by charging them with a clear intention. Tarot cards are like humans; they get tired from time to time and need a new energy boost.
WHAT CHARGING TAROT CARDS MEANS
Charging means that you add energy to the tarot deck. Cleansing, another term often used in tarot, means something else. Cleansing implies the opposite of charging. You remove unwanted energy from your deck. It's easy to confuse the two. I just wanted to highlight this before we move on.
I hope the list below helps you understand the difference between the closely related terms. 
Charging – adding energy
Cleansing – removing energy
Clearing – removing residual energy (less invasive than cleansing)
Consecrate – dedication for a particular purpose
Connecting – getting to know the inherent energy of the deck
Charging adds power to the deck and helps you get more accurate readings. Decks get tired, as people, and need a refreshing energy boost from time to time. 
The ritual of charging is mainly used in divination practices. You don't have to charge the tarot cards if you don't want to. It's up to you and your reading style. There are no rules when it comes to the tarot.
WANT TO LEARN MORE?
Learn how to cleanse your tarot cards with salt.
WHY DO YOU CHARGE TAROT CARDS
Like all spiritual tools, tarot cards are affected by surrounding energies. Some energies attach to the cards, and some suck the energy out of the cards. If your cards have been exposed to energy thieves, the cards can get tired and sleepy. At least, this is how I refer to the state. 
Tarot cards that have lost their spark need a little energy boost to recover their former selves.
If your cards are sleepy or tired, they will not bring correct readings. You often feel something is off. You don't connect with them as usual. 
Common causes for sleepy cards are frequent readings, upset emotions, chaotic surroundings, arguments near the reading space, energy fields, and at times entities. 
As you add your energy into the cards with every reading, some entities and energies want to feed off it. When this has happened, it's time to add some of your magic sparks back into the deck.
Remember to store your cards with selenite or clear quartz crystal to protect the great mojo of your cards from diluting. If you want to learn more about how to keep your tarot deck, read the article below. 
WANT TO LEARN MORE?
How to store your tarot deck in a tarot box
COMMON WAYS TO CHARGE TAROT DECKS
Charging tarot decks are not complicated. There are some easy ways you can do this. Relax, you don't have to be a tarot ninja to pull it off. I promise. Go with your gut feeling. In some cases, you don't need to charge your cards at all. It all depends on the usage, the surroundings, and the emotions in the vicinity of the cards.
You must ground yourself before charging your deck. As you charge your deck with your energy, you don't want to charge them with upstirred emotions. Meditate or use your favorite crystals to calm down and focus. I love using a set of crystals programmed for grounding.
CHARGING BY BLOWING ON THE CARDS
The easiest way is by blowing on the cards. Set a clear intention and imagine how you inject the cards with bright white light. Don't blow too hard – think of it like playing with the flame of a candle. Just enough to make it flicker, not put it out. I hold the deck in one hand and gently blow on it. Easy breezy!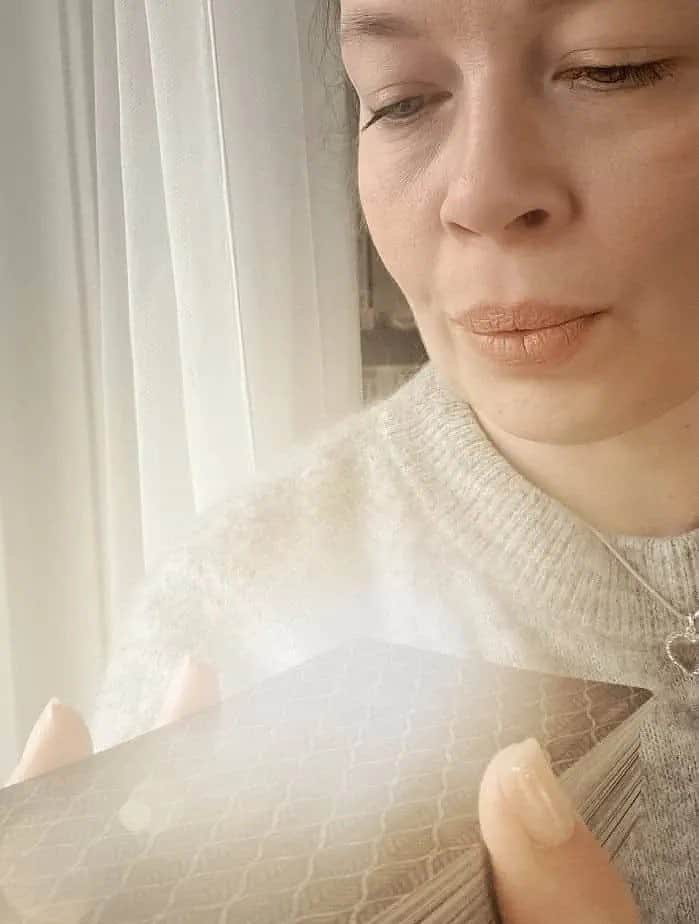 CHARGING BY RESHUFFLING AND REORDERING
Another easy way to recharge your deck's energy is by reordering and reshuffling the cards. This ritual resets and reboots the energy. You order the cards according to the Major and Minor Arcana; when done, reshuffle and place a selenite or clear quartz crystal on top. 
If you are uncertain how to order your tarot deck, I have described it thoroughly in an article about finding missing cards. You find it below.
Order the Major Arcana 
Order the Minor Arcana
Reshuffle the deck
Place a crystal on top of the deck
WANT TO LEARN MORE?
How to reorder the tarot deck.
CHARGE TAROT CARDS WITH AN INTENTION
This charging method is one of my personal favorites. It's easy and beginner-friendly. Place the tarot deck on a table and hold your hand over the deck, or hold it gently. Go with your gut feeling. You can't go wrong. 
Imagine how bright white light enters the deck and charges it. Set a clear intention that the energy will reboot the deck.
Place the deck on the table or in your hand
Hold your hand a couple of inches above the deck.
Or, place the hand on the deck
Imagine bright white light entering the deck
Set a clear intention that the light is there to reboot the deck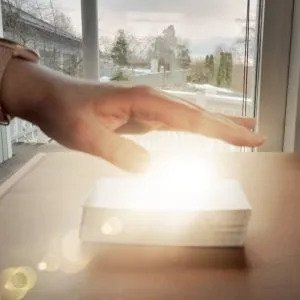 CHARGE TAROT CARDS WITH MOONLIGHT
This is a very calming and grounding way of charging your tarot cards. It gives the deck a neutral charge.
CHARGING TAROT CARDS BY SINGING OR CHANTING
You can inject your tarot deck with your energy by singing to it while holding it in your hand. Another alternative is chanting. 
CHARGING TAROT CARDS WITH CLEANSING CRYSTALS
An easy way to spark energy into your tarot cards is by using cleansing crystals. Place your favorite selenite, clear quartz, or tourmaline on top of the deck for a couple of hours. If you want to know more about how to do this I have written an article on the subject. You will find the link below.
WANT TO LEARN MORE?
How to order the tarot deck.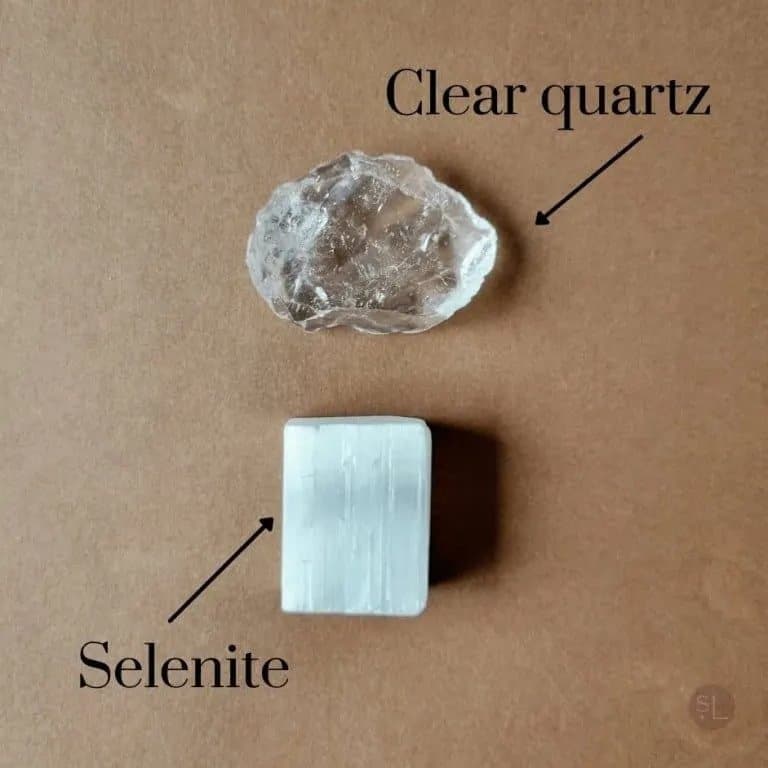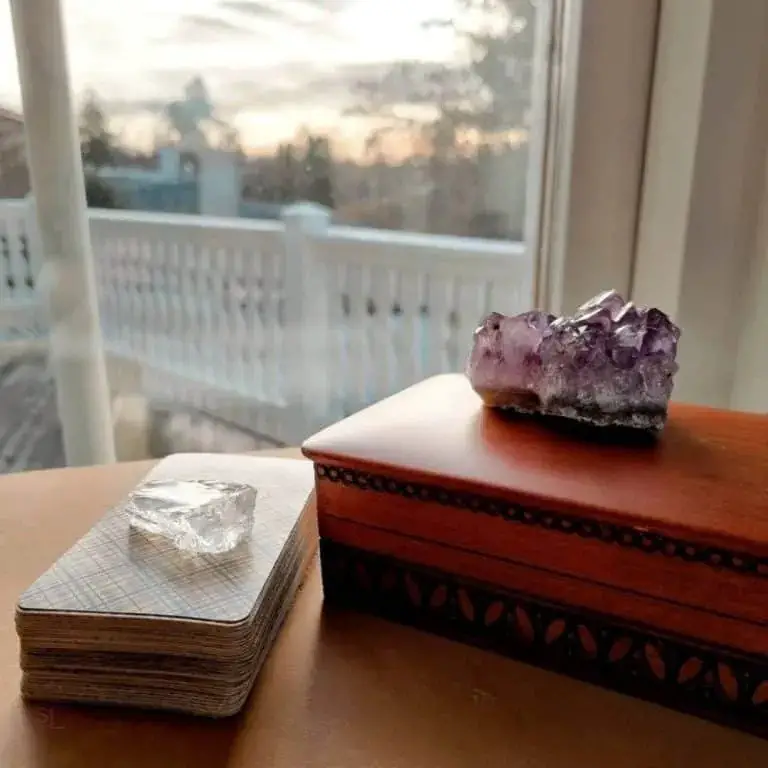 DO I NEED TO CHARGE TAROT CARDS?
No, you don't have to charge your tarot cards if you don't want to. 60% of tarot readers never charge their decks. Depending on your belief system, you might not need to do any kind of rituals regarding energies. 
MOST TAROT READERS DON'T CHARGE TAROT DECKS
I created a poll to investigate how many readers charge tarot cards. I added my survey in a tarot community with more than 241k members on Reddit (subreddit tarot). In total, 270 tarot readers answered my poll. 
40% stated that they charge the cards. 13% answered they charged decks, and 27% did it sometimes.
34% of the readers didn't charge their tarot decks at all. 26% didn't know what charging was. This means that 60% don't charge tarot decks at all.
Depending on how you use tarot, charging rituals might not be needed. This might be an echo of this. If you are not into divination, you don't need to change the cards and might not know what it is either.
When you look at the results as a whole, you notice that the camps not charging the tarot cards are in the majority.
You find a table and a screenshot of the poll below. 
40% = "Yes" (13%) and "Sometimes"(27%)
60% = "No" (34%) and "Don't know what charging is" (26%)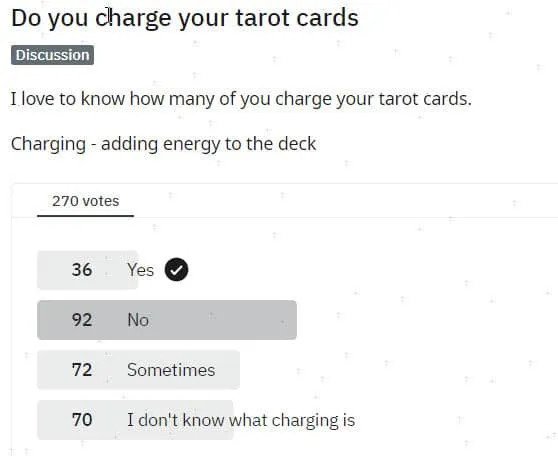 | Answer | Number | % |
| --- | --- | --- |
| No | 92 | 34% |
| Sometimes | 72 | 27% |
| I do not know what charging is | 70 | 26% |
| Yes | 36 | 13% |
IN SUMMARY
Charging tarot cards is a very personal thing. In most cases, you want to add your vibrations into your deck so that you can get a clear and accurate reading.
There are cases when you want to add energy from the Ether and earth, and then I recommend a moon bath or crystals. This might be great if you are depressed or not in a good mood. You don't want to charge your deck with lousy energy. 
There are easy ways to charge your tarot deck. You can sing for it, hold it in your hand, hover your hand over it, reorder it and shuffle it, or blow on it. The most important thing is that you set a clear intention to charge it.
With time and experience, you will find your favorite way. In the meantime, feel free to try different options to get to know yourself and your deck.
If you are not into divination, there's no need to charge the deck at all. You have to go with your belief, mood, and style. The most important thing is that you do you, as always. 
THE DEFINITIONS IN THIS ARTICLE ARE BASED ON THE RIDER WAITE DECK AND SYSTEM.