Is it possible to read tarot with only Major Arcana cards? At times there might be more interesting to get directions on the significant life lessons than the smaller ones. But will the reading be on-point and balanced?
As a general rule, you can do tarot readings with only the Major Arcana cards. You gain powerful insights into the major karmic energies influencing your life. As a downside, though, you lose the nuance and balance the Minor Arcana brings. 2% read with only Major Arcana cards. 
The Major Arcana cards represent major life lessons and events that change the course of your life journey on a profound level. Readings with only Major Arcana helps you gain insights when you need to make hard decisions on essential matters. In this article, you get all the information you need to get started.
TAROT READING WITH MAJOR ARCANA CARDS
As a general rule, nothing prevents you from reading tarot with only the Major Arcana cards. The Major Arcana represents primary karmic energies that influence your life on a deeper level. Major-only readings give you powerful insights into the overarching causes of life-changing events.
By filtering out the Major Arcana from your tarot deck, you can easily do Major-only spreads and readings. The Major Arcana consists of 22 cards with a specific look to them. 
If you want to learn more in-depth about what the Major Arcana represent, you find helpful information in the article below.
Further reading: Soul's Journey: Meaning of Major Arcana Cards
MAJOR ARCANA CARDS
The Major Arcana looks different from the other cards in the tarot deck. In this article, we focus on the Rider-Wite deck. The Major Arcana have scenery and a "name" at the bottom of the cards. Take a look at the pictures below for reference and guidance.
If you get stuck or have problems figuring out the Major Arcana cards, I have a helpful article showing how to do it in depth. You will find the link below.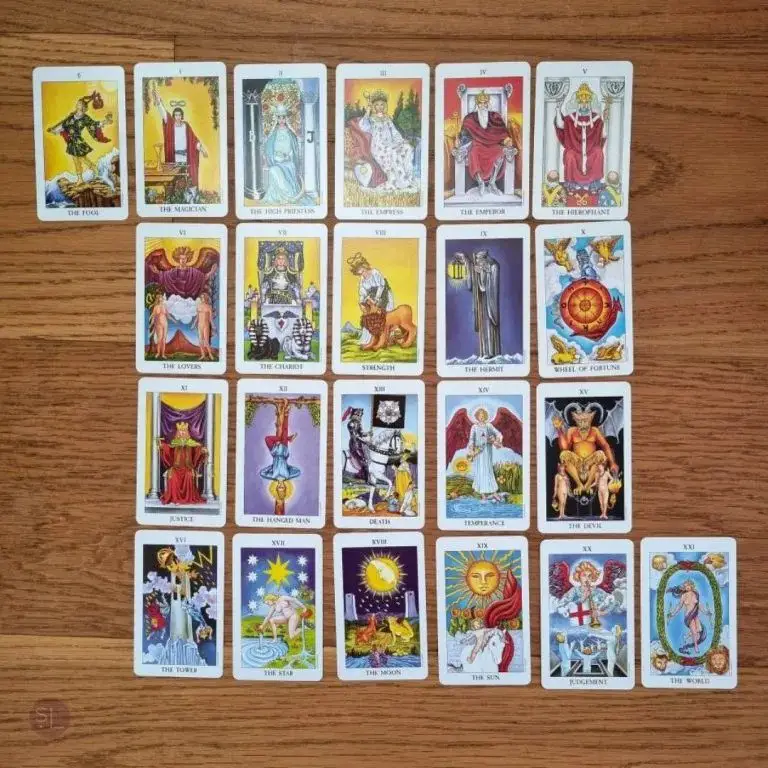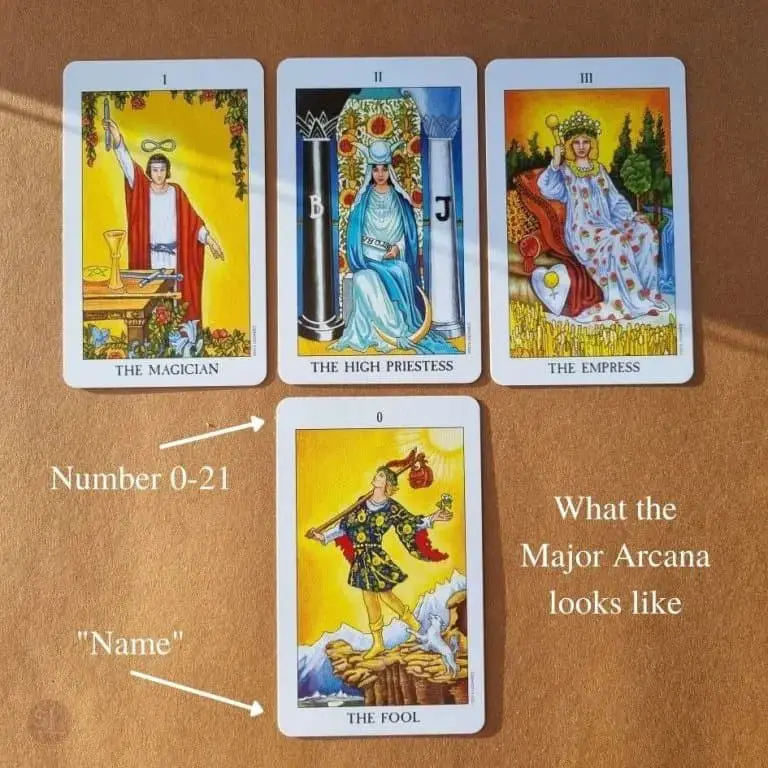 THE MAJOR ARCANA CARDS IN ORDER
| Number | Card |
| --- | --- |
| 0 | The Fool |
| 1 | The Magician |
| 2 | The High Priestess |
| 3 | The Empress |
| 4 | The Emperor |
| 5 | The Hierophant |
| 6 | The Lovers |
| 7 | The Chariot |
| 8 | Strenght or Justice |
| 9 | The Hermit |
| 10 | Wheel of Fortune |
| 11 | Justice or Strength |
| 12 | The Hanged Man |
| 13 | Death |
| 14 | Temperance |
| 15 | The Devil |
| 16 | The Tower |
| 17 | The Star |
| 18 | The Moon |
| 19 | The Sun |
| 20 | Judgement |
| 21 | The World |
With the help of the list and the pictures above, you should separate the Major Arcana from your tarot deck. If you run into problems, look in the booklet that came with your pack.
WANT TO LEARN MORE?
In-depth information with pictures of how to separate the Major Arcana, Minor Arcana, and the Suits. 
WHY READINGS WITH ONLY MAJOR ARCANA IS BENEFITIAL
Reading tarot with only Major Arcana cards will pinpoint the significant karmic energies that influence your life path. The Minor Arcana represents the smaller, everyday things with fewer long-term effects.
With that said, you are left with the overarching energies that impact your life long-term reading with Majors, also called Trumps.
When doing readings with only the Major Arcana, you will quickly see what energies impact you or your client the most. As the messages are overarching, you can't gain detailed messages, as the details lay in the Minor Arcana, but you tend to see things a bit clearer.
OVERVIEW READINGS
Reading tarot with only Major Arcana cards is beneficial if you have a new client and want an overview of essential energies at play. 
A great spread to use for overviews is the "past, present, future" spread. You will learn about your client's (or your own) karmic challenges and influences.
READINGS OF IMPORTANCE
Use the Major Arcana readings for readings that are of great importance for you and will impact you long-term and with significance. Readings with Major Arcana cards are perfect for big decisions when you need to gain insights into significant energies at play when facing complicated challenges in life on a spiritual or psychological plane.
YES OR NO TAROT READINGS
Using only the Major Arcana cards makes doing "yes or no" readings relatively easy. If you use the entire tarot deck, it is a bit more tricky. This is one great benefit with doing reading with only Trumps. 
It's very straightforward doing a "yes or no" reading with Trumps. Pull one card and take note of the number on top of the card. The number determines if it's a yes or no answer.
Yes for even numbers, and no for odd. If you get 0 it's the magical maybe. I just this Major Arcana spread for fast decision-making when I don't have my pendulum near. 
Yes – Even numbers
No – Odd numbers
Maybe – The Fool (0)
If you have a hard time with Roman numerals, just take a look at the table above. Take note of the name of the card, and then you have the number to the left.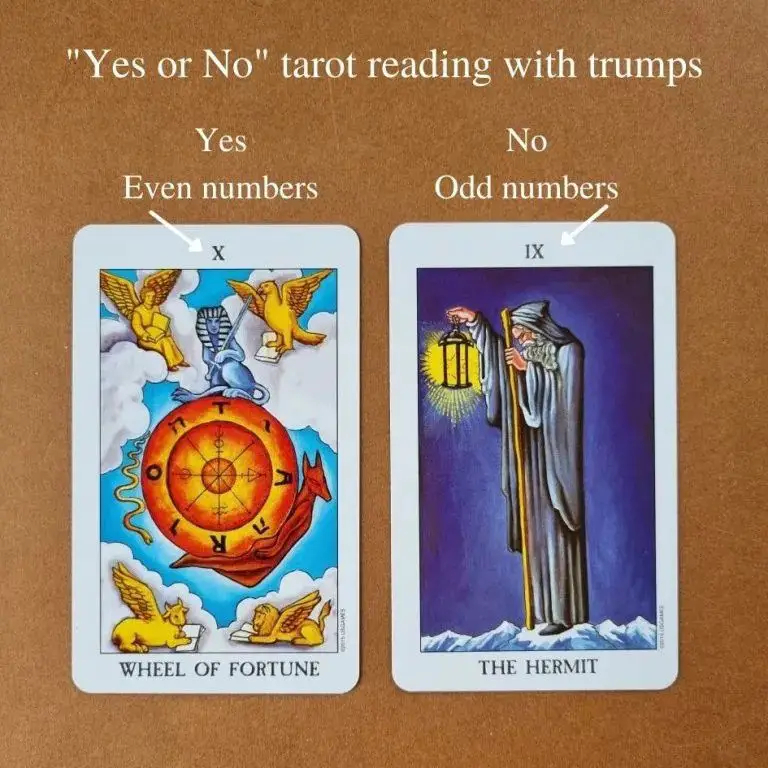 WHAT READINGS WITH ONLY MAJOR ARCANA IS LACKING
Reading tarot with only the Major Arcana has its pitfalls. When you strip the tarot deck from the nuance and balance of the Minor Arcana, you will not get as targeted and detailed readings. 
The tarot is like a book of life, and all parts have their importance. The Major Arcana is like the hammer, and the Minor Arcana is the chisel when creating a sculpture. 
It's harder to look at the messages in their proper context when you read tarot without the Minor Arcana. This is something you need to have in mind reading Trump-only readings.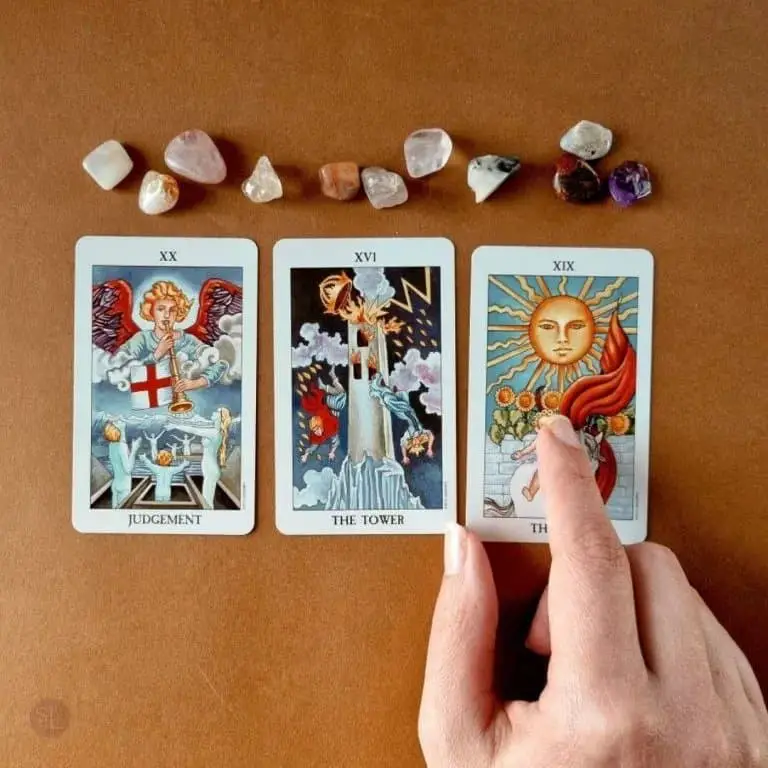 18% DO READING WITH ONLY MAJOR ARCANA CARDS
I decided to create a poll in a Facebook forum for tarot readers to survey how many do readings with only Major Arcana cards.
In total, 125 readers answered my poll. A majority, 82%, stated that they never do readings with only Major Arcana cards. 2% said they only did Major Arcana readings, and 15% did so occasionally. 
The majority of tarot readers never do readings with only Trump cards, which surprised me. When I was learning tarot, it was a part of the fundamental studies. You can do overarching energy scans easily before doing in-depth readings with new clients. This is something I still do at times when I feel there's a need for it. 
There are always some bullies in the groups, firing off negativity in polls. But don't feel discouraged by the slim numbers telling you you are a newbie if you do Major card-only readings. There's nothing newbie about it at all, rather the opposite. 
The most important thing is to know the difference between complete tarot deck readings and Trump readings. By now, you know all the ins and outs.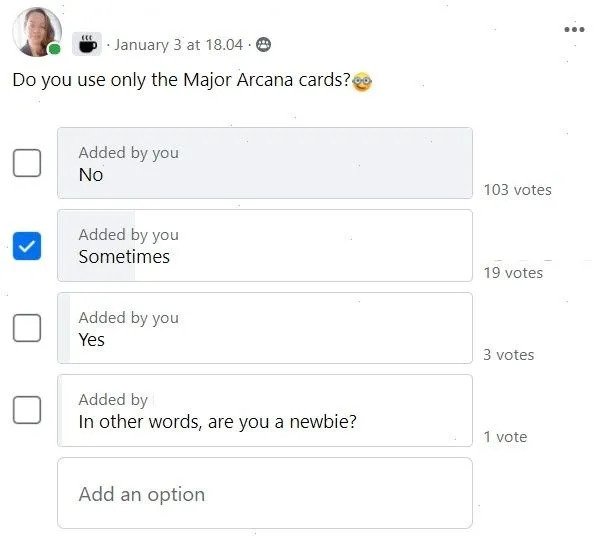 | Answer | Number | % |
| --- | --- | --- |
| No | 103 | 82% |
| Sometimes | 19 | 15% |
| Yes | 3 | 2% |
Some readers only used the Major Arcana cards when doing readings at parties or speed readings. They were impressed by the accuracy of the readings even if they made just quick 5-minutes sessions. 
Other's thought it was very tricky to do readings with only Major Arcana cards. They felt they missed out on detail and nuance.
Some readers thought that Minor Arcana cards held major life lessons and that it was hard to use just one part of the deck. I believe this is true as well. Small decisions we make in life may lead to life-changing events. I know many occasions in my life when this has been true. Maybe life is like a game of Domino? One thing sets off a chain reaction. 
It's essential to use the Major Arcana spreads and readings in the proper context and know what the reading will answer and not. It's also crucial to understand the different mechanics of the Minor and Major Arcana to grasp the whole picture.
MAJOR ARCANA SPREADS FOR IMPORTANT DECISIONS
Major Arcana card spreads are perfect for readings regarding essential events or challenges in your or your client's life. In this section of the article, you learn basic spreads for Trump-readings. Of course, feel free to create a custom spread if needed. 
SPREAD FOR IMPORTANT DECISIONS
One common question recurring in readings is the decision-based ones. If you do a spread with only Tumps, you may have an easier understanding of the underlying energies at play. This can be very helpful when deciding what to do. 
To unlock the answers, ask the tarot what you will experience if you choose "Option A" and "Option B." This will support you in making the choice of which path to choose.
Sometimes we know what we want to do, even if the card has "negative" energies to it. That is ok; now you see what energies you are up against. This will make the journey easier even if you face challenges on the way. 
It's a very straightforward three-card spread: "Option A," "Option B," and "Advice on Deciding." 
Separate the Major Arcana from the tarot deck. Make sure you have all 22 cards.
Position 1: Option A
Position 2: Option B
Position 3: Advice
Shuffle the Major Arcana cards
Make a clear intention
Place the cards facing up
Decode the message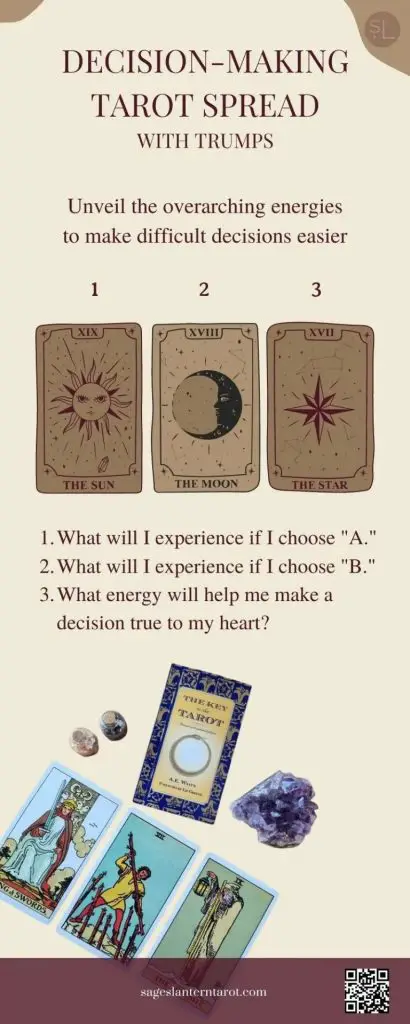 TAROT SPREAD WITH MAJOR ARCANA FOR NEW CLIENTS.
When you get a new client or want to get an overarching scan of the energies at play, this tarot spread is perfect for you. 
It's effortless even for a beginner, as it is based on the "Past, Present, Future" spread. When only using the Trumps you will be able to quickly get an overview of what the client, or you, have faced in the past, are struggling with in the present, and are about to meet in the future. This knowledge makes it so much easier when decoding a full tarot reading, as you have so much more information under your belt. 
These energies might be missed if you go ahead and do very detailed readings right away. This technique is one that I learned years ago and has been very useful for me in my reading career. 
I have spotted attachments and blockages right away. This helped me get to the core of the blockage so much faster than doing a full reading without any scan at all. It also allowed me to ground and protect myself in some instances before diving into a cloud of dark energies. 
Start by separating the Major Arcana from the deck. Make sure you have all 22 cards. Ask the cards to reveal the overarching energies interfering in the life path of the client (or yourself). 
Position 1: Past
Position 2: Present
Position 3: Future
Shuffle the Major Arcana cards
Make a clear intention
Place the cards facing up
Decode the message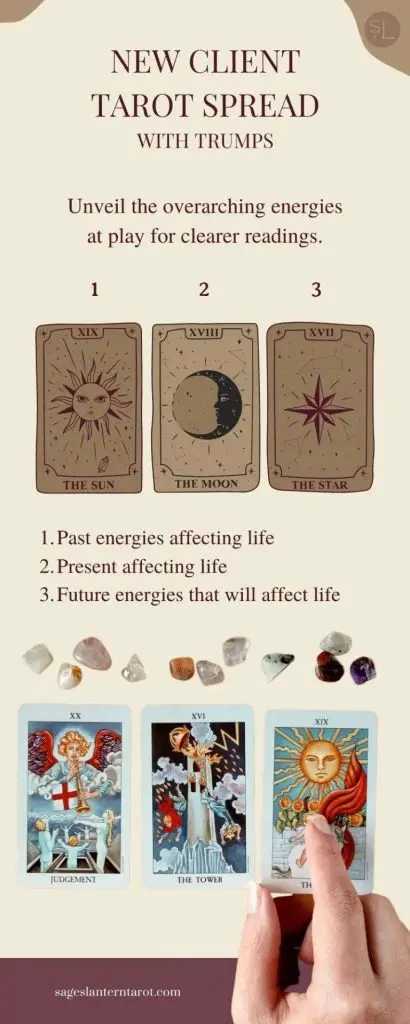 IN SUMMARY
Tarot readings with only the Major Arcana cards are beneficial if used correctly and at the right time. As the Major Arcana cards hold the major life lessons, we get the overarching energies that impact our life journey. This knowledge can significantly impact future readings. 
Readings with only Major Arcana cards are recommended for answers on essential matters. I use Major Arcana readings for crucial decisions or client intake scans.
If you want to do "yes or no" readings, Major Arcana card pulls are very beneficial too. Even numbers mean "yes," odd, "no," and the Fool "maybe." 
The downside with Major Arcana readings is that you lose the balance and nuance of a complete tarot deck reading. This is why it is essential to know when to use a Major-only reading and not. 
Finally, there is nothing "newbie" or "wrong" by doing Major Arcana readings, quite the opposite. I often hear people say degrading things about Trump readings in some tarot communities, but please don't listen! The technique is potent when used correctly and at the right time.
THE DEFINITIONS IN THIS ARTICLE ARE BASED ON THE RIDER WAITE DECK AND SYSTEM.