You might be in the dark between jobs and want to know when your misery will end. You might be when you are fed up with your current job situation and scanning the job ads to bail. Either way, the tarot is here to help you access information that will help you on your job hunt.
The Ace of Pentacles strongly indicates that a new job is on the horizon. The Fool, the 8 of Wands, and the World might also indicate a new job offer.
There is, of course, not just a single tarot card that will indicate that a job offer is on the horizon, but the Ace of Pentacles is an excellent bet you will soon be rewarded with a new job. Any of the Aces are significant indicators, as well as the Fool. But let's dig deeper and explore the cards whispering about a new future.
Ace of Pentacles indicates a new job offer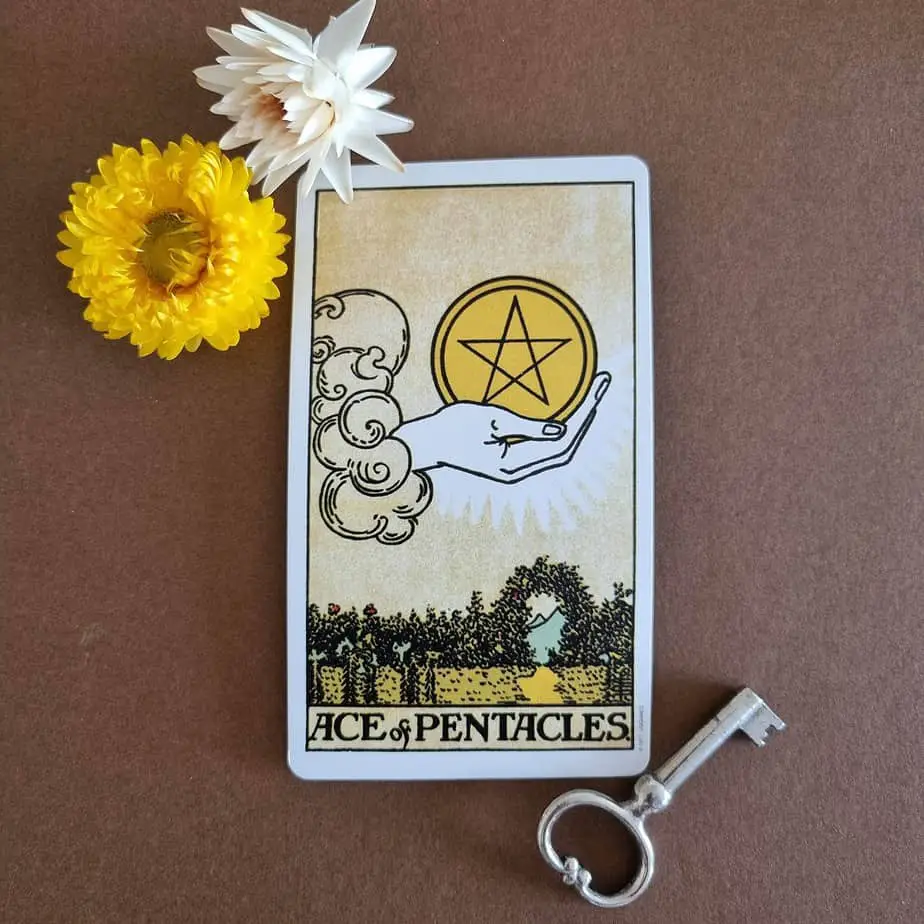 First, the Ace of Pentacles is about new beginnings and fresh starts. When this card appears in a reading, it often means a unique opportunity is on the horizon.
And what screams better opportunity than a new job? If you are stuck in between jobs or are eager to find a new one, this is the card you want to see in your spread.
The pentacles suit in tarot represents material possessions and practical matters, including finances and work. So when you see the Ace of Pentacles in a tarot reading, it's a clear sign that your career path is about to take a positive turn.
This card is also associated with abundance and prosperity. It suggests the new job you'll embark on will bring financial stability and security.
This can be a huge relief, especially if you're struggling to make ends meet or are stuck in a dead-end job.
But the Ace of Pentacles isn't just about money. It's also about personal fulfillment and satisfaction.
The pentacles represent the physical world, but they also symbolize the earth element, which is connected to our sense of grounding and stability.
Looking closer at the card, you notice the garden and the mountain in the background. The garden symbolizes prosperity and earthly things, and the mountain has new possibilities.
You still have to climb the mountain to ripe the fruits, but if you are willing to follow the path – riches might be waiting for you.
Starting a new job that aligns with your values and interests can provide a sense of purpose and fulfillment that can be hard to find in other areas of life.
So, if you're hoping to find a new job or are searching, keep an eye out for the Ace of Pentacles in your tarot readings.
It could be a sign that a new job opportunity is just around the corner, one that will bring abundance, stability, and personal fulfillment to your life.
56% THINK THE ACE OF PENTACLES IS THE ULTIMATE TAROT CARD FOR NEW JOB OFFERS
As tarot is subjective in many ways, I wanted to check with my fellow tarot reader friend what card they thought was the most promising for new job opportunities and offers.
I reached out to my favorite tarot community on Facebook, Tarot Tarot Tarot. When writing this article, 56% believed that the Ace of Pentacles was the most promising card regarding the possibility of a new job.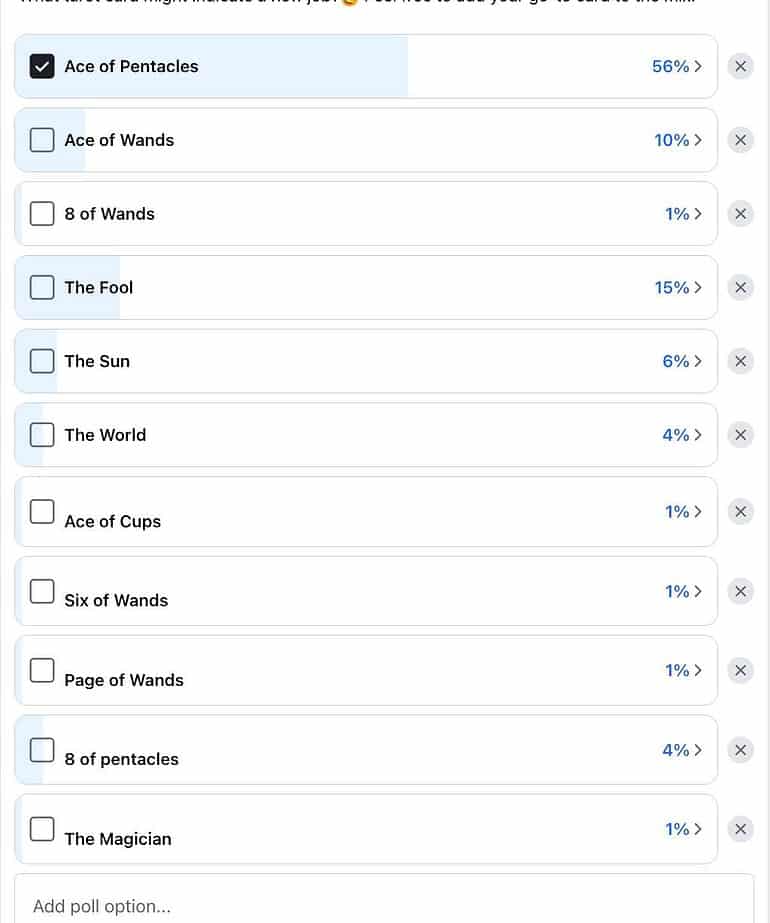 As you notice, the Ace of Pentacles is the big winner. But other cards are also interesting when foreseeing a new job opportunity. The Fool comes in second with 15% and in third, Ace of Wands with 10%.
In the table below, you will find the results of the poll.
The best tarot cards indicating a new job
| Tarot card | Procentage |
| --- | --- |
| Ace of Pentacles | 56% |
| The Fool | 15% |
| Ace of Wands | 10% |
| The Sun | 6% |
| The World | 4% |
| 8 of Pentacles | 4% |
| Ace of Cups | 1% |
| Six of Wands | 1% |
| Page of Wands | 1% |
| The Magician | 1% |
In total, 57 tarot readers participated in the poll.
The Fool as a sign for a new job proposal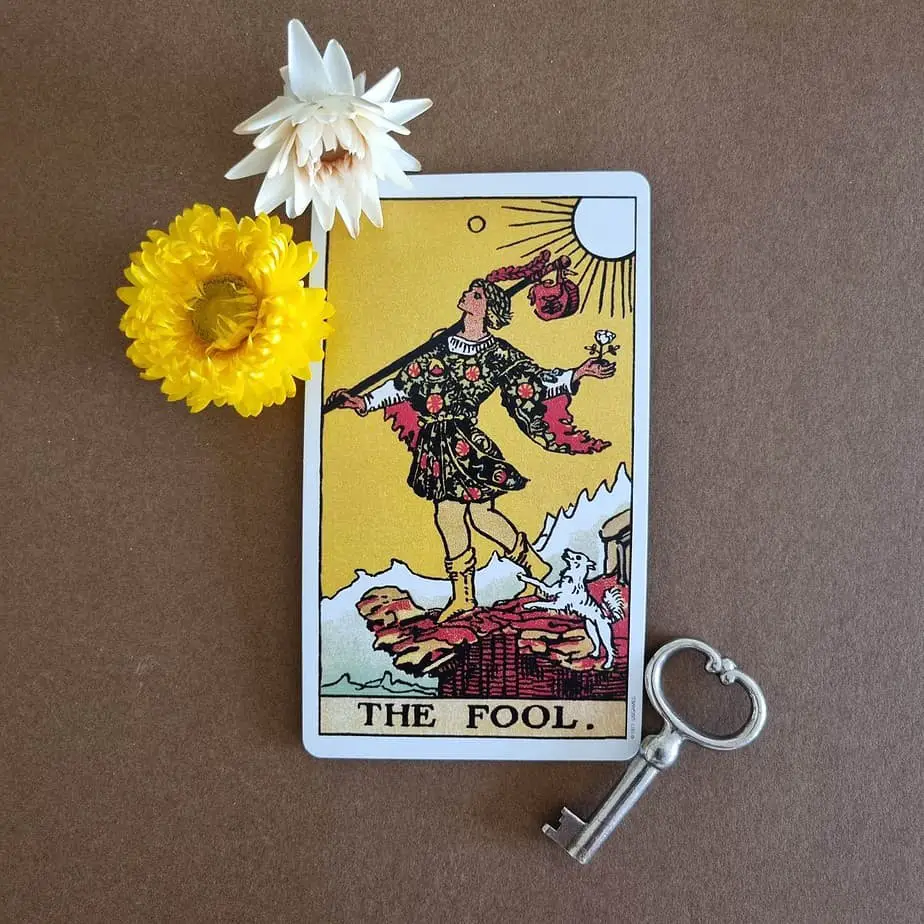 The Ace of Pentacles is the ultimate sign that a new job proposal is around the corner. The Ace of Pentacles is a Minor Arcana card representing happenings and events.
The Fool, on the other hand, is a Major Arcana card that might indicate a life-changing event that is due to happen no matter what. We can bolster the effects by knowledgeable decisions, but it is expected to happen if we follow our true path.
This means that the Fool might predict a life-changing job proposal. If you take or deny the proposal. Your life will bring a new turn. The Fool represents the energy of jumping into the unknown and starting a new journey.
If you are looking for a job and get this card, this is exciting news. You might be heading towards a new fresh start.
Tarot spread for a new job
Not knowing what is around the corner can be frustrating if you seek a new job. This tarot spread will help you focus on what you can do to gain a job offer.
Look out for the Ace of Pentacles, the Fool, or the Ace of Wands. The Sun is not a bad sign, either!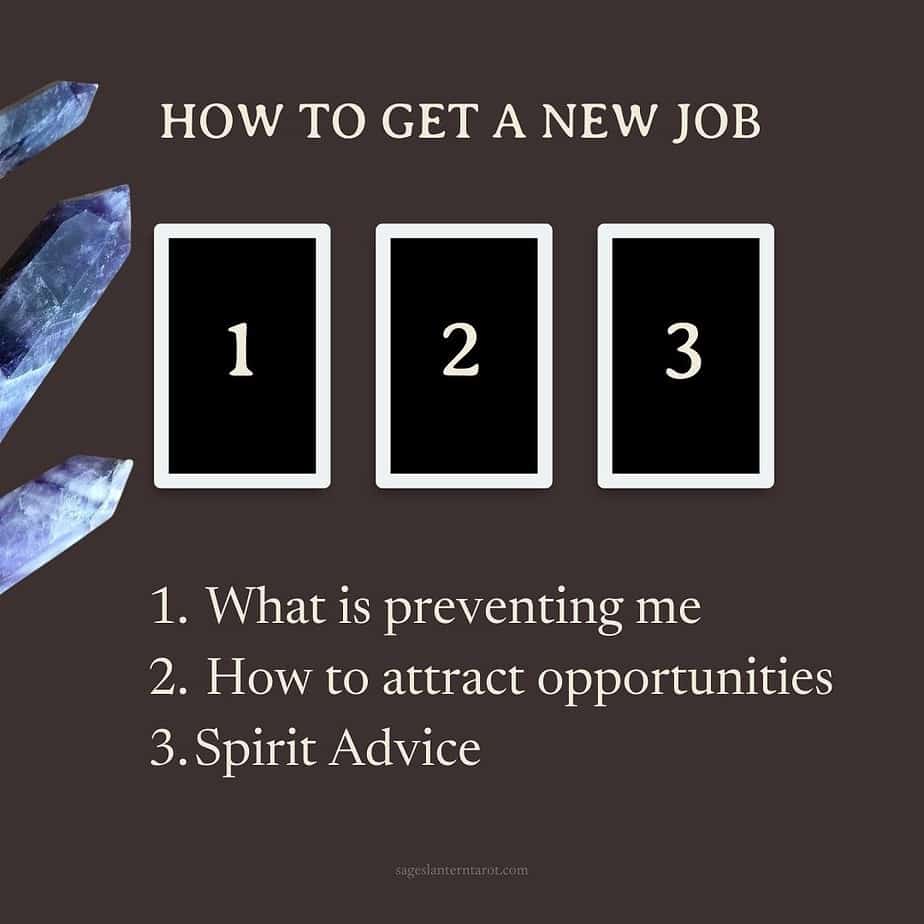 How to get a new job tarot spread
What is preventing me from getting a new job?
How to attract new job opportunities?
Spirit advice
Spirit advice is a general direction card that can help you deal with the situation you have at hand. I find them comforting and helpful.
Remember to be mindful at all times. There are no terrible tarot cards, only more or less challenging events or energies to confront. We all meet tough times, and we all meet the Sun eventually.
It might be hard to see with all social media posts filled with success after success, but remember, they just cut the negative part. It is highly curated.
I wish you all the luck on your job-hunting journey. If you ever feel that you might need a personal reading to clarify things, just let me know,
When it is time for a job interview, check out this article. It will make you ready and at your best to meet your new employer.
Related post: Tarot card spreads for job interviews
THE DEFINITIONS IN THIS ARTICLE ARE BASED ON THE RIDER WAITE DECK AND SYSTEM.