You want to learn how to read tarot but have no idea what it takes. It might feel like a daunting journey knowing all the card meanings and connecting with your intuition and all that jazz. There's so much mystery surrounding the tarot, and not many share their experience learning it.
According to 58% of tarot readers, it was moderately hard to learn tarot. The hardest part is learning to work with intuition, not learning the card meanings and structure of tarot. To fast-track your learning curve it's recommended to take a class where you learn the structure of tarot.
As a tarot reader myself, I can relate to the mixed messages you get online. Some say tarot is easy, and some say it takes years to learn. The truth is, it all depends on what system you want to learn and how deep you want to go. Some schools are easier than others.
HOW DIFFICULT IT IS TO LEARN TAROT
As with anything you want to learn, it takes practice and dedication. The tricky thing with tarot is that you never "know" it entirely as you develop your skill over time. It's like an art; you develop your style over time as you learn more and more. This article will focus on the basic knowledge to get started as there is no such thing as "tarot graduation."
As this is a very subjective question, I decided to create a poll on the Tarot Tarot Tarot Facebook group. I asked how fellow peers experienced learning tarot. In total, 51 answered the poll. 
58% of the tarot readers thought it was moderately hard to learn reading cards. This seems to be the common consensus. The runner-up, at 23%, though it was somewhat hard.
No one thought learning to be impossible, which is excellent news if you are on the fence. Only one reader stated it was very hard.
You should always take polls like this with a grain of salt as the question is tough to answer. It varies from person to person, and the way you learn might also impact your experience. But as a landslide of readers thought it was moderate, it's a guideline.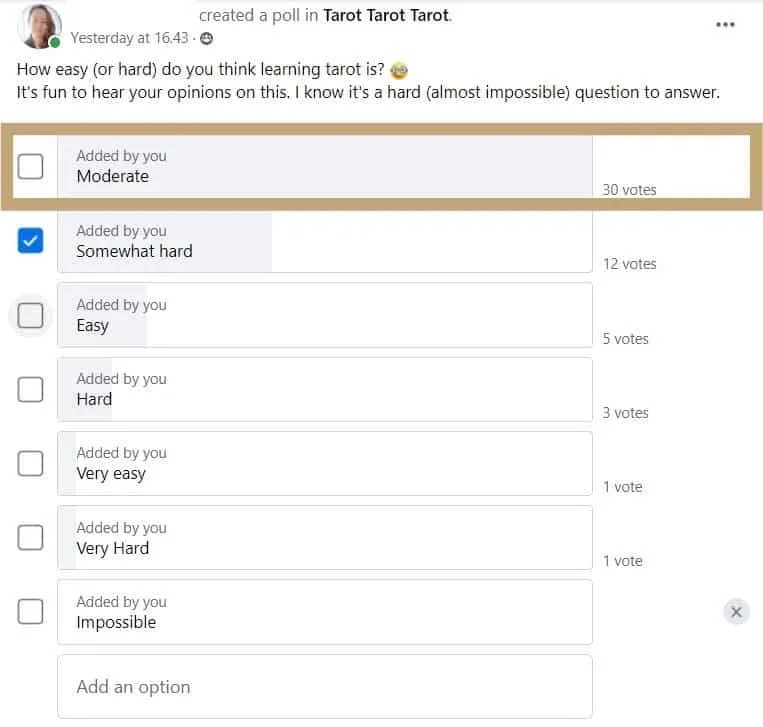 In the table below you find the results from the poll as well. As the picture of the poll is a screen grab, it might be a bit blurry on some screens. 
| Answer | Number | % |
| --- | --- | --- |
| Moderate | 30 | 58% |
| Somewhat hard | 12 | 23% |
| Easy | 5 | 10% |
| Hard | 3 | 6% |
| Very Easy | 1 | 2% |
| Very Hard | 1 | 2% |
| Impossible | 0 | 0% |
THE HARDEST PART OF LEARNING TAROT 
The hardest part is learning the tarot is not the card meanings and structure, but accessing your intuition. 
We learn to trust our rational mind more than our gut feeling in modern life. Some people have a more challenging time allowing intuition the steer them than others. But we all have it hidden inside.
The card meanings follow a rational structure, which often is easier to learn than listening to your inner voice. This is why it's so hard to say how difficult learning tarot is. The easier you have to let your guard down, your rational mind, the easier it will be to read the cards.
MAKE IT EASIER TO LEARN TAROT
Tarot has many systems or "schools." Some of the systems are easier to learn than others as a beginner. For example, the Rider-Waite system is very widely used, and there are many educational books, sites, and classes. This makes it a great place to start.
Other systems might not be as easy to get information about and, therefore, harder to learn. Other "schools" are, for example, Tarot de Marseilles and Thoth. 
My recommendation is to start with the Rider-Waite tarot deck. The deck has imagery that makes it easier to remember the card meanings, while the Tarot the Marseille only has pips (abstract symbols).  In the picture below, you notice the difference between the decks.
With the Tarot de Marseille, you have to know the meanings of the cards by memory, while the Rider-Waite deck gives you clues to the definitions in the scenery.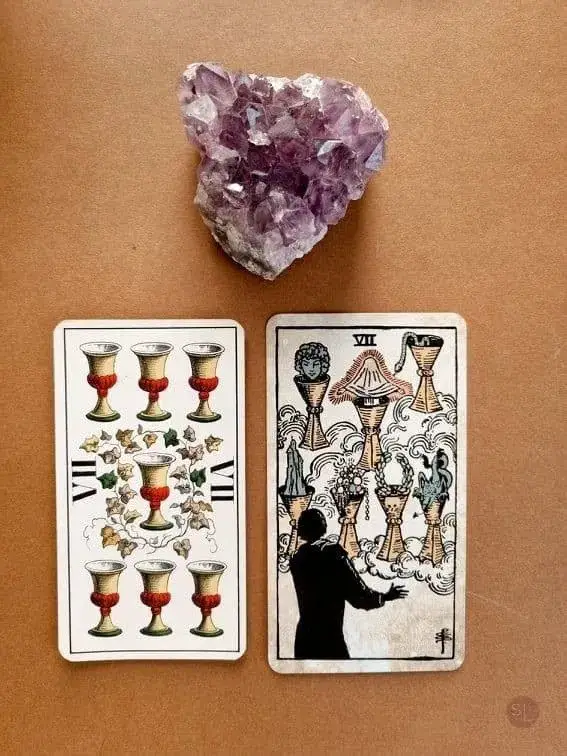 Learning by yourself is more complicated than taking a class. A seasoned teacher knows the systems and techniques and will give you guidelines. The secret is to learn the card meanings by understanding numerology and the meaning of the suits. 
WANT TO LEARN MORE?
Can anyone learn the tarot?
THE SECRET TO LEARNING TAROT FASTER
If you want to learn the easy route, I recommend taking a class. You find them online, and maybe in your local community as well. I know that tarot can be a bit "charged" in some communities. In those cases, try to find an online class.
Online classes are great if you don't feel ok with outing your new passion. I know it can take some time to feel confident doing this sometimes. 
I have taken many of Biddy Tarot's online classes and programs. The programs help me fast-track the learning curve by guiding and methods. This allows me to focus on strengthening my intuition. This is the most tricky part of learning tarot, and it takes a lifetime to "master." 
In learning the structure of the tarot, the card meanings are the first step in the learning process, and by making this stage more manageable, you will get to the core of the tarot much faster.
A DAILY CARD PULL SUPER-CHARGE YOUR LEARNING
Another secret for learning tarot faster is to do a daily card pull. Doing this practice will get you to know the card meanings more quickly. You will, at the same time, start activating your intuition.
In the morning, pull a card from your tarot deck. Jot down your first thoughts – be cautious not to overthink things. The second step is to familiarize yourself with the card's meaning. Use a reference book or online guide. This is a great online tool you can use: Biddy Tarot Card Meanings. The guide is free, and you get the reversed meanings as well. 
The Biddy Tarot Card Meaning guide is excellent as you get keywords when you hover over the pictures. If you click them, you get the information in full.
WANT TO LEARN MORE?
Learn how to do a daily card pull like a pro.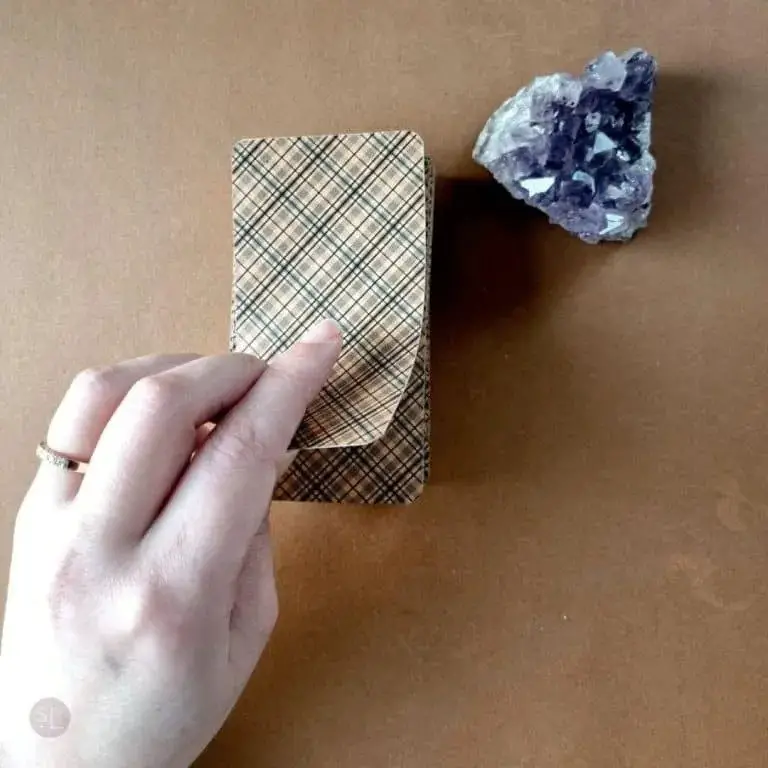 MEDITATION
A secret tip to learn to access your intuition easier is by starting to meditate on the cards. If you are new to meditation, you might benefit from learning the basics first.
I use the free Medito app for meditation, and it's perfect if you are a beginner. It has a beginner's program for learning the basics. 
I love Biddy Tarot's Soul Meditations. The meditations focus on one card at a time, and you get a deep connection with it. I find it very helpful, and the meditations are not too long either. When you are new to meditation, it's hard if it is too long.
If you are slipping out of the meditation, try practicing a bit more with Medito. 
IN SUMMARY
As there are so many layers to tarot, you will never fully master it. It's a process that will span a lifetime. It's like any art form. You will perfect your style and technique with experience. Some say tarot is like a language – you learn the nuances with time and experience – and training. I love this likeness; it speaks to my heart. 
Most tarot readers, 58%, thought it was moderately hard to learn the tarot. 23% thought it was somewhat hard. This shows that learning tarot isn't a breeze; it takes dedication. 
An easy way to super-charge your learning is to enroll in a class. In the course, you will learn the mechanics of tarot, which will help you start working on your intuition faster. 
Accessing your intuition is the hard part of tarot, not learning the card meanings and structure. This is a skill set that needs nurturing and stamina. No class in the world can teach you this, but of course, you can learn tricks to access it more straightforward. 
With the help of meditation, you can access your intuition easier. Start by practicing meditation in your daily life. 
Remember, learning tarot is not a sprint; it's a marathon. Enjoy your journey! This is the start of a new beginning. 
THE DEFINITIONS IN THIS ARTICLE ARE BASED ON THE RIDER WAITE DECK AND SYSTEM.