When you start learning tarot, you are often focused on learning all the card meanings. But as time goes by, you learn how to receive complex messages. But who is sending you all the information? Is it you, someone, or something else?
89% of tarot readers say they connect with Spirit Guides often or sometimes. A Spirit Guide is a spirit, who has once lived and has your best at heart. A Spirit Guide helps and protects you through your journey on Earth. Connect with your Spirit Guide with the help of the Tarot or other divination tools.
Tarot readers who practice divination most commonly connect with their Spirit Guides. A Spirit Guide is a spirit that has your best at heart and is there to guide you through your life journey. 
It is something beyond the ego and material that has your best interests at heart. Or, more specifically, the interests of enlightening your spirit and raising you to higher levels of consciousness.
WHAT A SPIRIT GUIDE IS
A Spirit Guide is a spirit that protects you and guides you in life. A Spirit Guide is reaching over to you from the other side to help you navigate the challenges of Earthly life. Spirit Guides were once humans, so they know how hard life can be at times. 
Spirit Guides are helpers from the spirit world supporting you to become a better version of yourself and follow your inner truth and path. They help you learn the lessons you need to know to progress to higher knowledge. 
A Spirit Guide is not only helping you on your spiritual path. A Spirit Guide might also act as a Guardian Angel shielding you from physical harm. Some say there's a difference between the Guides and that they have different duties and missions. I tend to think of them as the same. They perform various tasks and help you in different situations.
There are Gateway Guardians as well. These are Spirit Guides that protect you from negative energies that might try to connect with you during readings or other divination practices. You can look at them as bouncers at the club. 
Not all Spirit Guides need to be human; they can be animals. As you notice, there are many different kinds of Spirit Guides out there. You don't need to have just one either; you can have many: a Gatekeeper, a Guardian Angel, a Spirit Guide, and an Animal Spirit Guide.
There are many ways you can connect with your Spirit Guide, but we will focus on using the Tarot in this article. We will also touch on the pendulum; you find a mini-class below.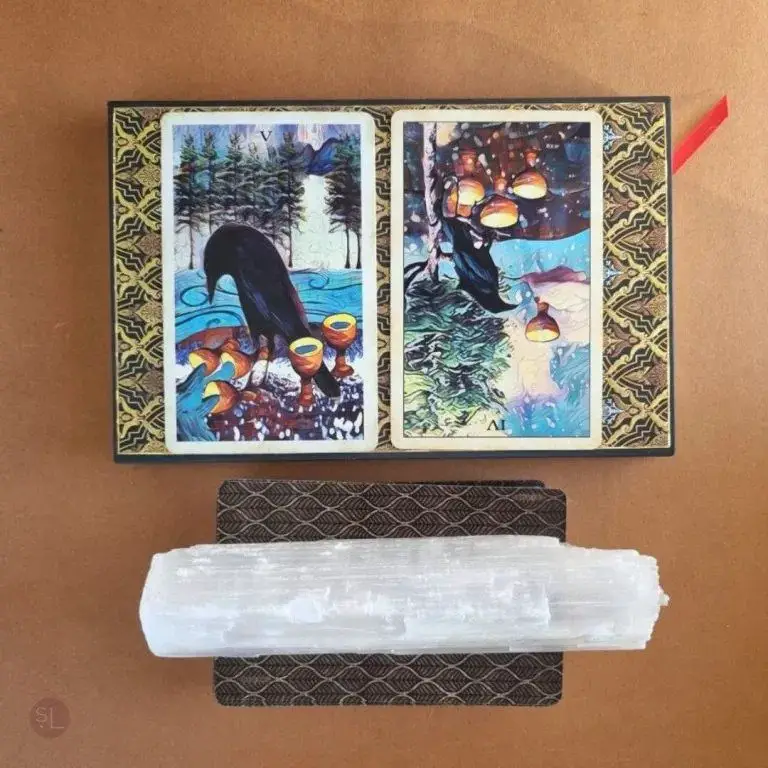 HOW TO CONNECT WITH YOUR SPIRIT GUIDE WITH THE HELP OF TAROT
There are different ways to connect with your Spirit Guides. In this article, we will focus on using tarot cards to receive messages from the other side. 
Besides tarot, you can connect through meditation, pendulums, and different kinds of other divination tools. Some do not need any tools at all. Psychics do not need any means; they get the messages delivered when they tune into the Ether. 
Spirit Guides send messages through our intuition, your gut feeling. It's not enough to read the cards; you have to open up your intuition to connect. Some hear clear voices; others know things. Others see events unfolding. The way a Spirit Guide might communicate is very personal and dut to the psychic abilities of the reader.
There's no right or better way to do this. You have to find your way. This doesn't usually happen overnight. It takes time and trust in your ability to tune into the Ether.
Some are born with the channels open to the Spirit world; others have to learn how to do it. But all can channel messages if they put their minds to it. As with everything, it will come more naturally for some than others. But with practice and dedication, you can get there, regardless. 
One way to connect with your Spirit Guide is by using a tarot spread. You can use a premade one or create one yourself.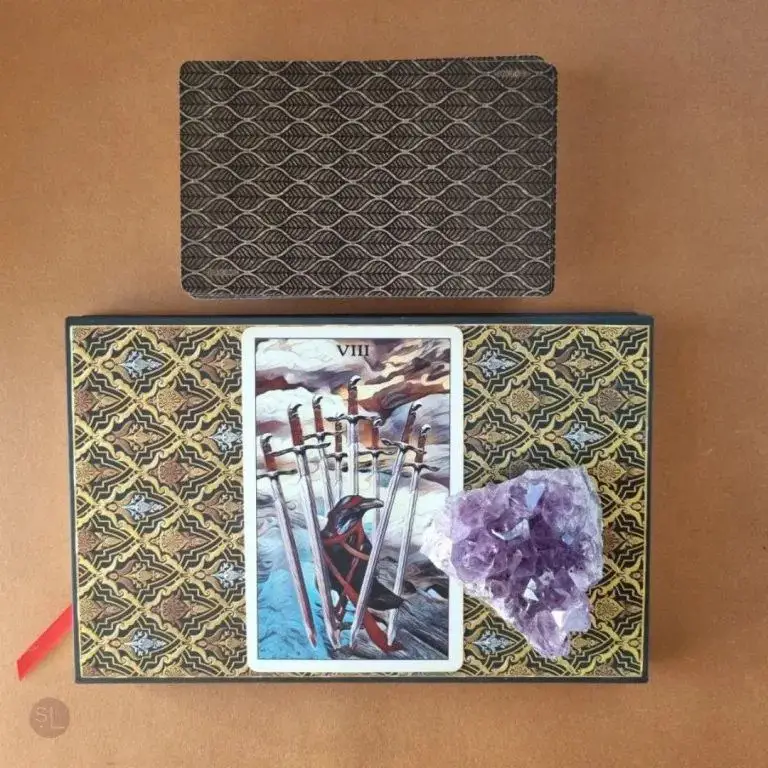 Above, you find my favorite card pull for Spirit Guide advice and guidance. I pull one card and ask: What do I need to know right now? It's as simple as that. This is a great way to get the most critical information through. A more complex spread sometimes dilutes the core of a message. It's easy things get lost in translation.
I often pull tarot cards when feeling stressed or worried about a situation. I get guiding answers quickly. It's such a relief.
TAROT SPREADS TO CHANNEL YOUR SPIRIT GUIDES
With the help of tarot spreads, you can receive messages and guidance from your Guardian Angels or Guides. You can create spreads as you go or use the examples below. As you get to know your Spirit Guide, you know what spreads work the best. 
Two-card Spirit Guide Spreads
Why did you choose me? | How can I know you are near?
What do I need to know right now? | What is the best cause of action
How can I live to the fullest? | What is my soul purpose
Outcome option A | Outcome option B
What is my strength? | What is my weakness?
What are you here to help me with? | What am I missing?
Thee-card Spirit Guide Spreads
What card represents you? | What card represents me? | How do we work together?
What do you want from me? | What should I work on? | What should I focus on?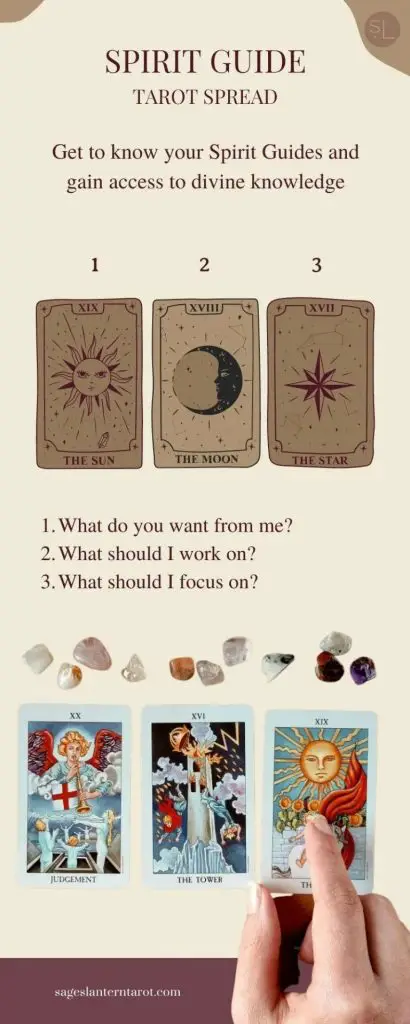 WANT TO LEARN MORE?
A beginners' guide to three-card tarot spreads
DO YOU HAVE TO CONNECT WITH A SPIRIT GUIDE?
As with everything regarding the tarot, there are no musts or rules. You have to go with your gut feeling and what feels good for you. You don't have to communicate with your Spirit Guides if you don't want to; they tend to deliver important messages whether we like it or not. 
Have you ever experienced dreams that profoundly impacted you? You woke up and just knew the dream meant something, as it was a message.
This might be a way for your Guide to get through when you need to know something important. Tarot cards make it easier for your Guide, but it's not the end all be all. 
If you are not interested in divination, it is ok. You are not a lesser reader or anything like that. We all practice tarot in our way. Never let anyone tell you otherwise. 
I seldom ask my Spirit Guides for guidance in readings, they come to me in my dreams, or I know. It took a long time before I understood it was this way.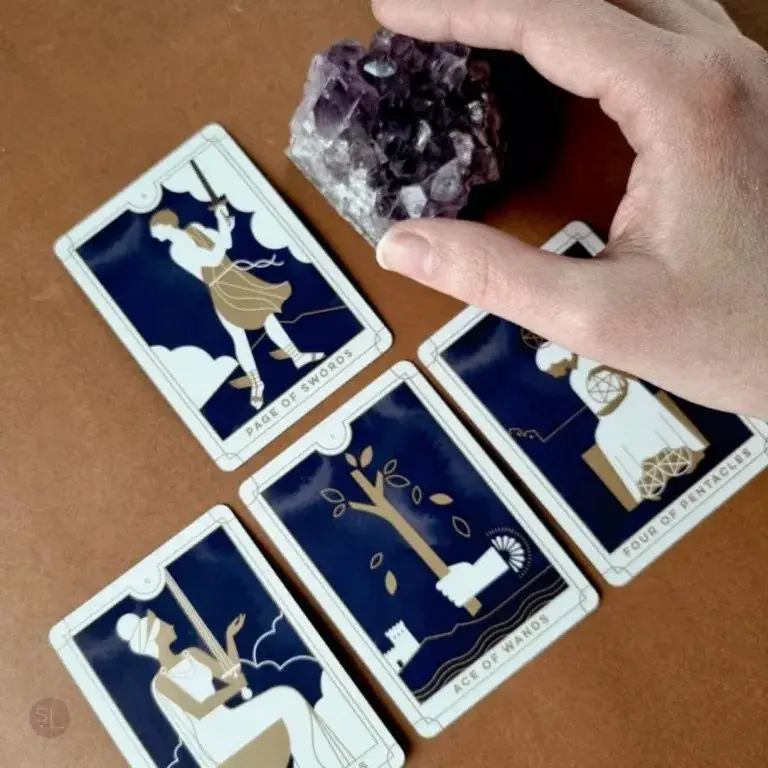 89% CONNECT WITH SPIRIT GUIDES DURING TAROT READINGS
To investigate how many connect with Spirit Guides during tarot readings, I decided to make a poll in a Facebook community. The answer was very revealing. 89% answered they channeled messages from their Spirit Guides with the help of tarot. 
28% answered they occasionally connected with Spirit Guides. This means that a whopping 89% practice divination. There is a strong belief that you can channel your guides with the help of the tarot. There are always "bullies" answering strange things, but I just disregarded the answers that were not helpful. 
You find the compiled results in the table below.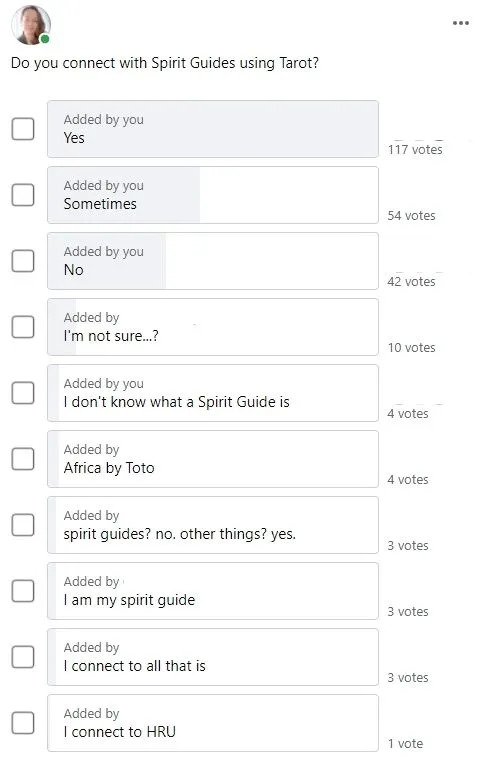 | Answer | Number | % |
| --- | --- | --- |
| Yes | 117 | 61% |
| Sometimes | 54 | 28% |
| I'm not sure | 10 | 5% |
| I don't know what a Spirit Guide is | 4 | 2% |
| I connect with other entities/spirits/myself | 7 | 4% |
PENDULUM FOR DEEPER MESSAGES
If you want to get to know your Spirit Guide more deeply, you can add a pendulum to your tarot readings. With the help of a pendulum, you can get yes and no answers, which is a bit trickier to get with tarot cards. 
Pendulums are very easy to use when you get the hang of them. You find my mini-class below if you want to learn more in-depth how to use it.
I use pendulums as a supportive tool during readings as I think they add much value. I use them for guidance in specific questions. Be sure not to ask the same question repeatedly. Spirit Guides tend to get a bit annoyed with you if you do. Be sure to open your heart to receive the message you get. 
Important things to remember before using a pendulum is to program it so you know what movement means "yes," "no," and "no answer." At times, Guides don't want to give us answers – I guess they have their reasons. It's essential to accept that and thank them anyway.
Another important thing is to keep your questions short and precise. And lastly, set a clear intention who you want to communicate with. Don't leave any doors open for unwanted guests to chime in.
IS IT DANGEROUS TO CONNECT WITH SPIRIT GUIDES?
As with all divination practices, you have to be cautious. You don't invite anyone else than your Spirit Guide. There is always a risk sneaky spirits or entities decide to chime into the discussion. Not all souls are kind and have their best at heart. Just like here on Earth, not everyone is kind and friendly.
Be sure always to set a clear intention when opening up a channel to the Ether. Only allow your Spirit Guide through. If you are not putting any barriers and leaving the door wide open for anyone to enter, divination might be dangerous. You can accidentally give the green light for dark energy or enter your space. 
If you intend to only talk with your Guides that bring love and light, you are on the clear, though. Always protect yourself from harmful energies by doing a protection prayer before your readings. I also do the same prayer when the reading is done. This closes the door to the Ether. You don't want to open a portal by mistake. 
I love the protection prayer that I found on the Biddy Tarot site. 
I call Archangel Michael to come and guide me in the reading and also protect me from the negative energy and shield me in his purple light!

Biddy Tarot
FINAL THOUGHTS
89% of tarot readers answer they connect with Spirit Guides often or sometimes. When you connect with a Spirit Guide, you practice divination. A Spirit Guide is a spirit that once was a human or animal living here on Earth. They are here to give you guidance and protection during your time here on Earth.
You can have one or more Spirit Guides. Some act like Spiritual mentors, Guardian Angels, or Gatekeepers. You can have one or more Spirit Guides. This can also vary with time and your specific needs. 
Spirit Guides can connect through any deviation tool or spontaneously if you are a psychic. Everyone can learn how to communicate with Spirit Guides. Find the optimal channel, divination tool, and mental space. For most, it doesn't happen overnight. It takes practice and dedication. It comes down to practice and a willingness to lower your guard (your Ego). 
You can connect with your Spirit Guides with the help of tarot spreads with targeted questions. You can also ask detailed questions using a pendulum. 
THE DEFINITIONS IN THIS ARTICLE ARE BASED ON THE RIDER WAITE DECK AND SYSTEM.