If you ever laid eyes on the Crow Tarot deck, I bet you started to drool. The beautiful and moody deck is a delight for the eyes. But is it a great option if you are a beginner? What are the pros and cons?
The pros of the Crow tarot deck are that it is excellent for beginners, for intuitive readings, and has profound symbolism. The cons are that it might be a bit busy and complex if you are not yet familiar with the classical card meanings. 46% answered the Crow Tarot was suitable for beginners.
MJ Cullinane released the Crow Tarot deck on the 4th of January 2019. The publisher is the US Game System. The deck has an intense and mysterious aura and is great if you want to deepen and expand your intuition. 
THE CROW TAROT BY MJ CULLINANE
The Crow Tarot deck by MJ Cullinane is breathtaking with its moody and sad artworks of crows and ravens. It is one of my favorite decks of all time. In itself, it works as an object of art, the iconography is very beautiful and expressive. The deck is traditional and mirrors the Rider-Waite deck.
BASIC INFORMATION
Published by US Games Systems on January 4, 2019
Mirrors the classic Rider-Waite system
78 cards with full Arcanas and suits.
Larger size and coated cards
Targeted for intuitive and moody readers
Mid-range price – about $15 (February 2022)
The tarot deck and guidebook are in English. The card back is reversible which makes it easy to use if you read with reversals. The back is dark brown with a repeating design. 
The color palette is vivid but the darkness of the crows and ravens gives it a moody and mysterious atmosphere. The Crow tarot sucks you in and helps you deepen your intuition and flow. 
I think it's a great deck if you want to expand from the original Rider-Waite deck. The symbols and the composition of the images are in line with the Rider-Waite deck but add a new dimension to the story of the card. 
The Crow tarot suits a reader with a little "darkness" and "depth." I fell in love with it just because I could relate to the moody and airy feeling. I have always had a darker side, one that contemplates deep questions about life and death. When I used the cards the first time, I was amazed at how they spoke to me right away. There's no sugar coating in the messages. It's straightforward.
It's as far from the Radiant Rider-Waite deck as you can come, in my option. If you are familiar with it. Even the Sun is a bit mellow. And I totally love it.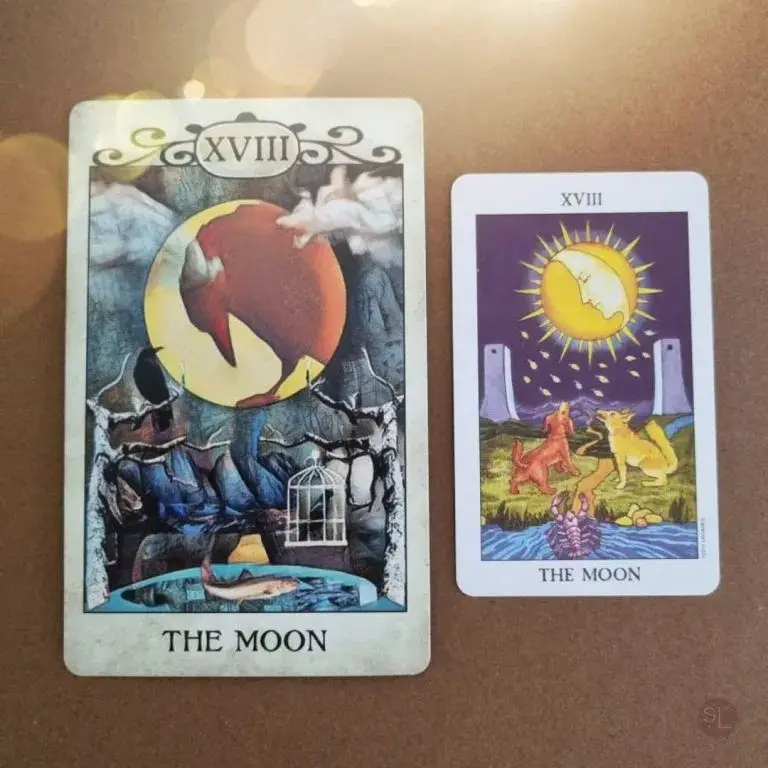 THE CARD STOCK AND PRINT
The card stock is high quality, and the colors are vibrant. The cards have a protective coating. The size of the cards is a little too large for my (tiny) hands. I have a hard time shuffling it. The cards tend to pop out of my hands. I mostly revert to a variant of a casino shuffling. 
I will show you the packaging and a flip through in the video below. As you notice I have a bit of an issue with the overhand shuffle due to the size of the cards. The cards are 3.5 x 1.5 x 5.25 inches and larger than poker-sized cards. 
The deck has a complete set of 78 cards and a well-thought trough guidebook. The guidebook has 86 pages and includes a unique "crow tarot spread."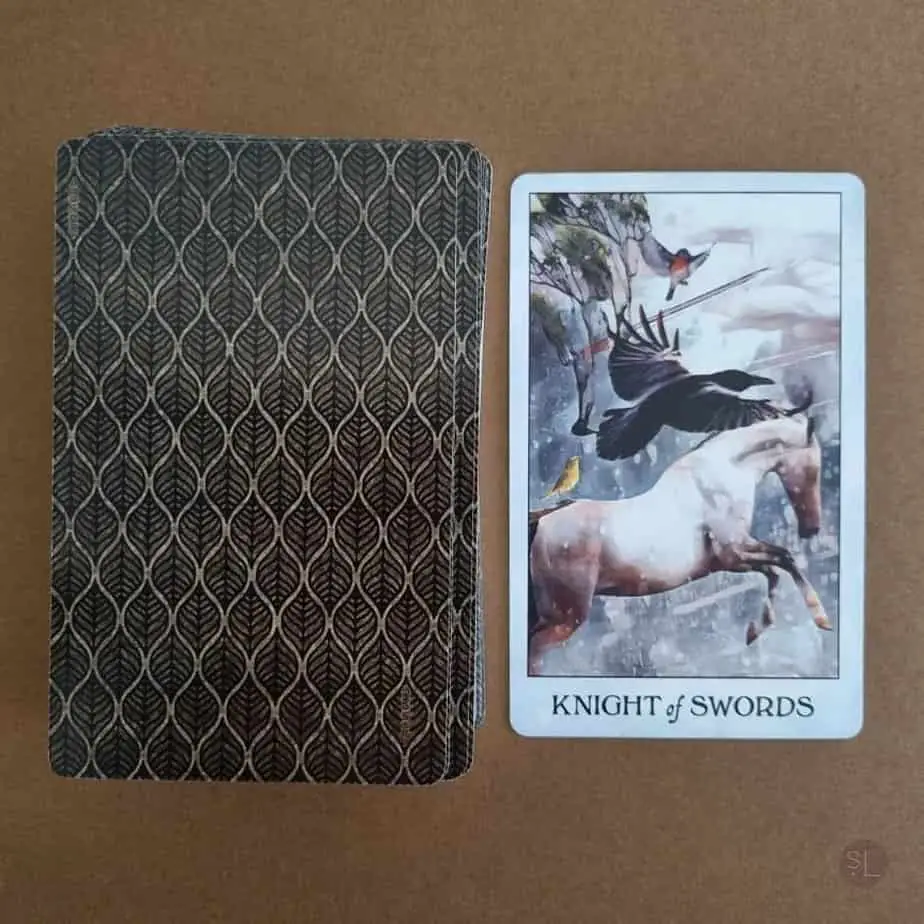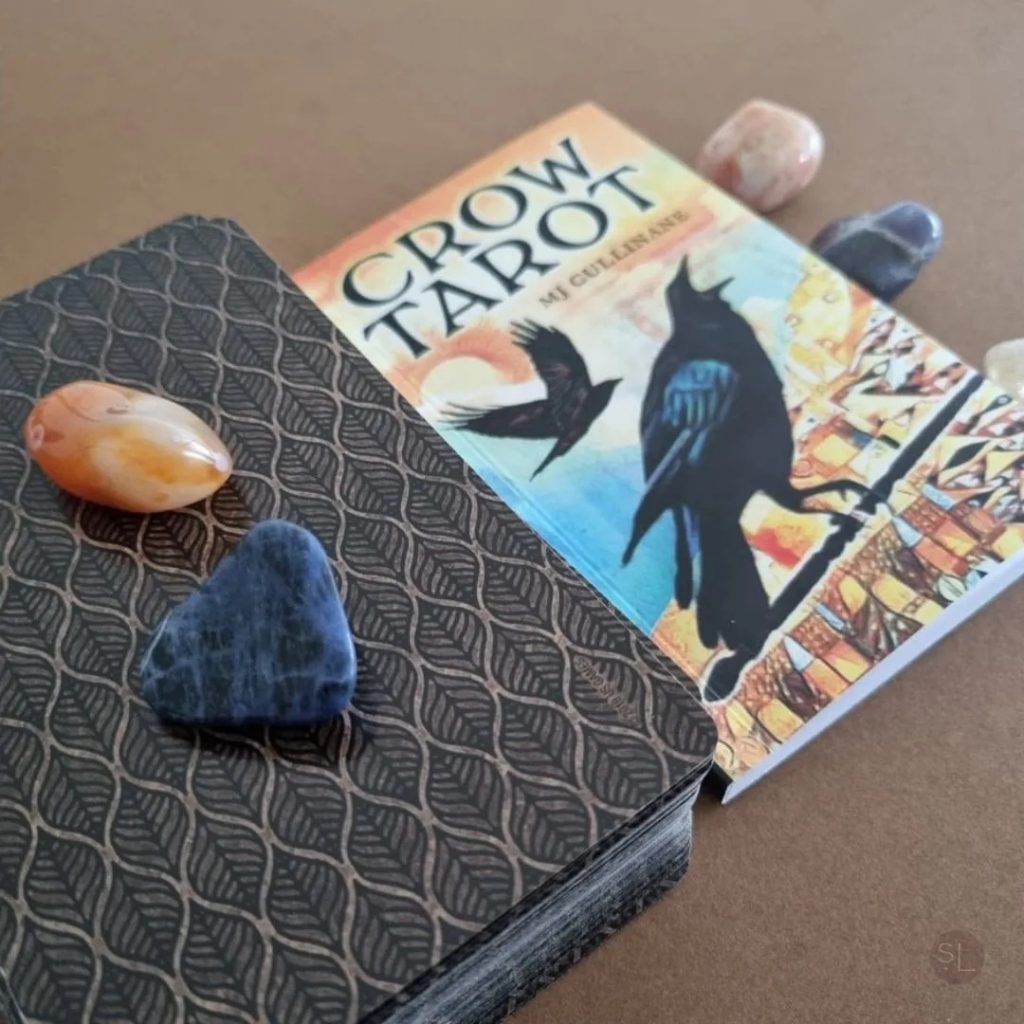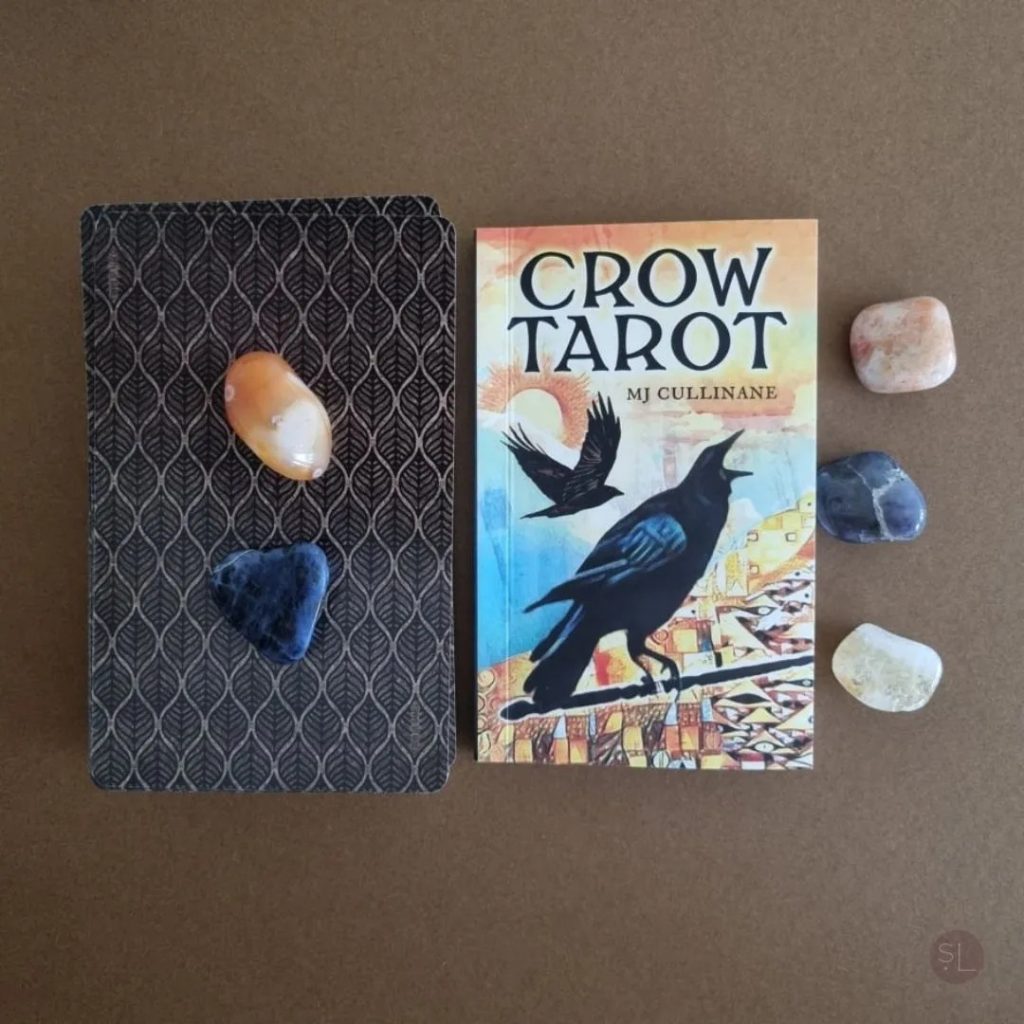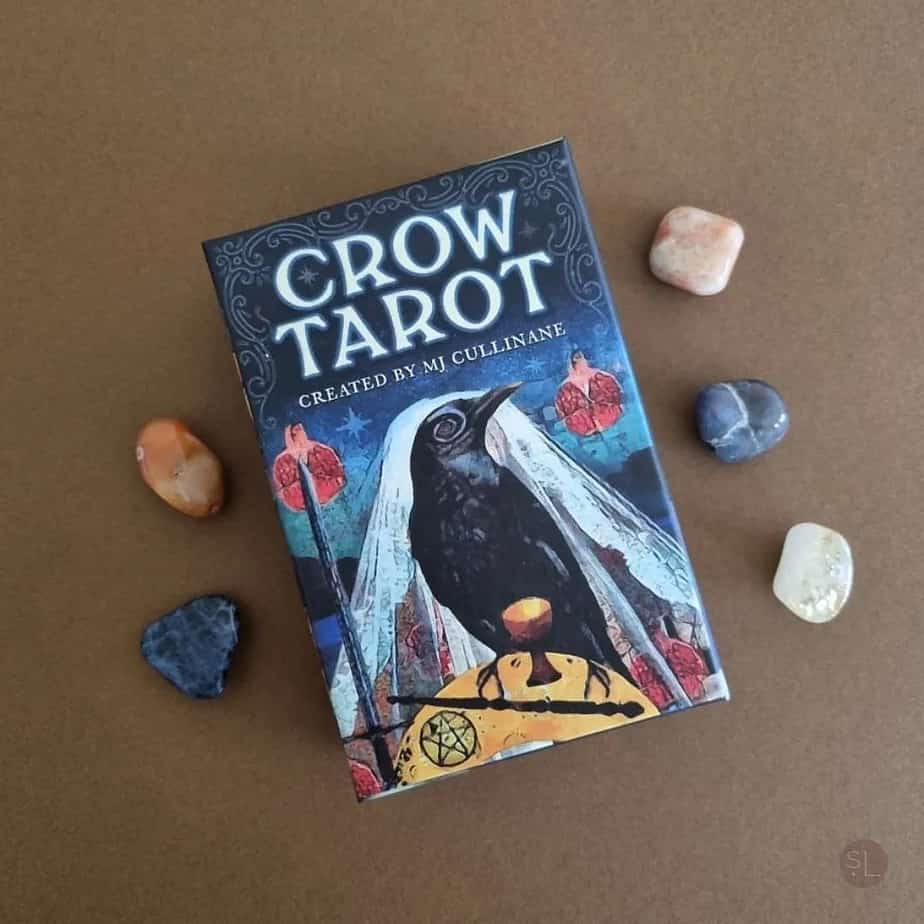 SYMBOLISM AND CULTURE
As you notice, the colors of the deck are very moody yet vibrant. It has a magical and mysterious vibe that is perfect if you have a deep personality. The images are very artistic yet pay homage to the Rider-Waite decks' traditional scenery. 
Crows and ravens have strong symbolism. Black birds are often connected with the supernatural and the afterworld.
Crows are often depicted as a sign of death or bad omens in literature and poetry. But you also see the opposite, tokens of luck. The crow as a symbol is multilayered and complex.
In the world of spiritualism, the crow often depicts transformation or shapeshifting. Dreams of crows or ravens usually indicate psychic abilities yet not (entirely) discovered or utilized. 
As you see, the Crow tarot comes with a deep symbolism beyond the traditional Rider-Waite deck. 
THE PROS AND CONS OF THE CROW TAROT DECK
The Crow tarot comes with a depth that brings deep and straightforward messages. I love this deck because it helps me connect with my inner wisdom and matches my personality perfectly. The Crow deck comes with great benefits but might also have some cons depending on your reading style and preferences (of course). 
As tarot decks are very personal, a con for me might be a pro for you. Always go with your gut feeling, and don't let any cons deter you from the deck if you feel you like it. Not enough said about that. Let's dig in.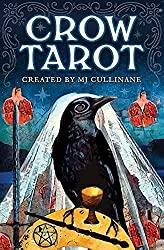 THE PROS OF THE CROW TAROT DECK
The pros are obvious; anyone into intuitive readings and has a soft spot for lore and mysticism will love this deck. The crows and ravens are packed with cultural symbolism and will expand your intuition in no time. The deck is also perfect for a beginner growing tired of the classic Rider-Waite deck. The images mirror the cards in the classic Rider-Waite, and you will be able to use your favorite reference books or sites without any problem.
PROS
Promotes intuitive readings and shadow-work.
 Easy to use for beginners as it follows the Rider-Waite system.
Great for moody and deep personalities.
Great for readers loving symbolism and lore.
CONS
It might be too moody for some readers.
Complex symbolism and color scheme.
A larger card size might make it harder to shuffle.
A bit busy images and color scheme.
THE CONS OF THE CROW TAROT DECK
As all cons, they might be pros depending on style and preference. But if you are a beginner trying to learn the Rider-Waite system, the pictures might be complex and hinder your flow. I would recommend this deck for an intermediate to advanced reader. But, as always, you do you. If you feel connected to the cards, they are suitable for you. 
The mood is a bit dark, and if you need positive vibes, this might not be the right deck for you. It is not a depressing deck; it is just playing with the shadow sides of your personality. Depending on where you are in your spiritual journey, this might not suit you. For me, it's perfect as I need to work on the deeper darkness I have tried to balance for years. 
The deck is very complex as the crows add an even deeper level of symbolism. If you are not into the lore and mystical symbolism, this might be hindering your flow.
The Crow Tarot deck is also perfect for shadow work. With shadow work, you target self-sabotage and the dark side of your essence. We all have a light and a dark side. Both are as important. We tend to forget to work on the dark side to nourish our light side. The Crow Tarot deck is perfect for piercing through any Ego, hindering you from knowing what is holding you back from reaching your goals. 
If you want to work on your shadows, look at the spread below. 
WANT TO LEARN MORE?
Is a Rider-Waite style of tarot deck great for beginners?
46% THINKS THE CROW TAROT IS A GREAT BEGINNER'S DECK
As the perception of a tarot deck is subjective, I decided to ask, "Is the Crow Tarot deck suitable for a beginner?". In total, 160 tarot readers answered my poll. 46% answered the deck was suitable for a beginner. Many did not know. Maybe they never used the deck or were unsure. 
16% didn't think the Crow Tarot deck was suitable for beginners. Just a few answers it might be an excellent fit for a beginner.
As the deck is complex, I understand that it can be hard to say "yes" or "no." It all comes down to the reading style and the reader's preference. It might be perfect if you are an intuitive reader, even a beginner. It might not be that great if you read the cards in a "fortunetelling" style. I hope you follow me. The deck is heavily geared towards intuitive readings.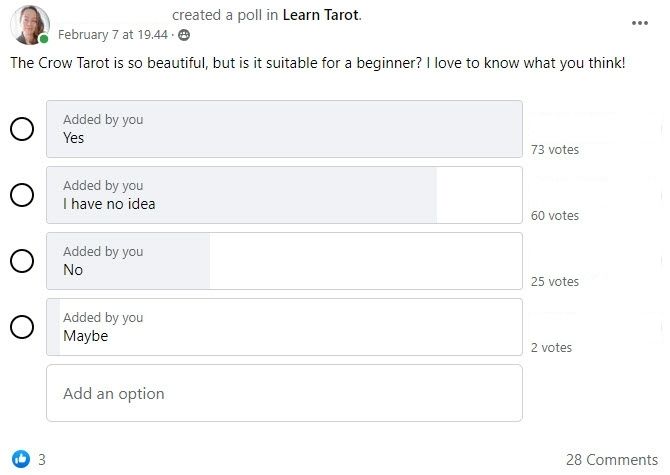 | Answer | Number | % |
| --- | --- | --- |
| Yes | 73 | 46% |
| I have no idea | 60 | 38% |
| No | 25 | 16% |
| Maybe | 2 | 1% |
SHADOW-WORK SPREAD USING THE CROW TAROT DECK
I love using the Crow Tarot deck for shadow work or serious matters where a streak of darkness or moodiness is present. I often use the Crow Tarot deck when doing reading for clients and myself. 
This is one of my favorite spreads for examining the darker side of my personality, and what might hold me back or sabotage my spiritual progress. I tend to be a master in self-sabotage, so I use this spread quite often to keep track of myself. 
The spread is easy to do, and you can, of course, use another deck if you want to. 
Start by setting a clear intention for the reading. Take deep breaths and reset yourself. Make sure you are grounded and open your heart to receive any message the Crow Tarot might have for you. 
Shuffle the deck and start laying out the three cards. Even if the spread is limited, don't be fooled; it is potent.
Card 1: What am I suppressing that hinders me from reaching my goal?
Card 2: What is the root cause for me to suppress it?
Card 3: How do I overcome this? 
Let the spread soak for a couple of days. The answers tend not to reveal themselves right away. This is the tricky part of shadow work. The Ego wants to suppress it. You need to stay strong and work with the cards for a couple of days. Be sure to note any dreams you might have. These often give clues. 
Don't force anything. Let it take time. The Ego is a hard thing to crack.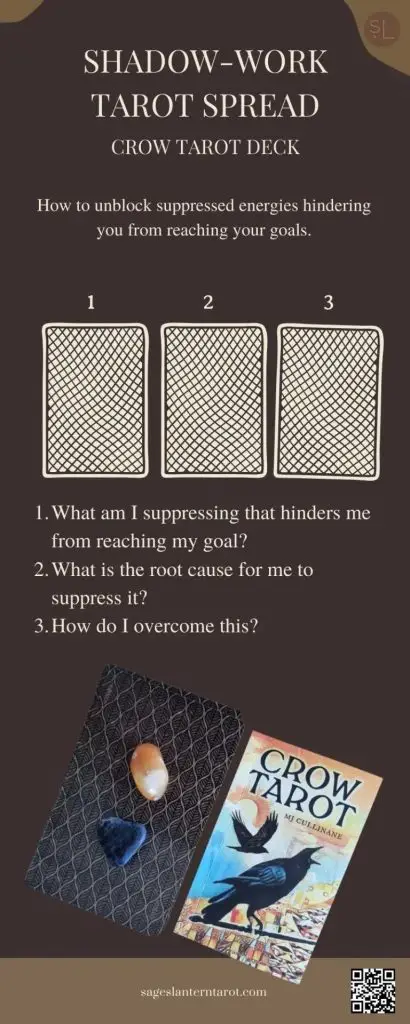 IN SUMMARY
The Crow Tarot is a beautiful tarot deck that works in itself as a work of art. The imagery is stunning and loaded with deep symbolism. The colors help the reader to connect with their intuition. The deck is heavily geared towards intuitive readers.
The Crow Tarot deck follows the Rider-Waite system. It has full Arcanas and suits. This makes the Crow Tarot deck suitable for beginners. 
In the poll, 46 % answered that the Crow Tarot deck is suitable for beginners. Only 16% said it was not a great option. 
The Crow Tarot is mid-priced and has a high-quality card stock with a protective coating. The card size is a bit larger than a regular poker card size. This makes it harder for a person with a smaller hand to shuffle. 
The Crow Tarot suits a reader with a moody personality that loves lore and mysticism.
I recommend this deck from the bottom of my heart. I often go for this deck for shadow work or serious matters. I usually use this deck in client work. I love using this deck for psychic readings. 
THE DEFINITIONS IN THIS ARTICLE ARE BASED ON THE RIDER WAITE DECK AND SYSTEM.