Why do Tarot readers place beautiful crystals on top of the deck between readings? I remember the overwhelming feeling. First, you need to learn how to read and handle the cards; then, you suddenly realize you need to learn how to use crystals as well. But relax, in this guide, you will learn everything you need to know.
As a general rule, you cleanse your Tarot deck by placing a crystal on top of your deck in between readings. Commonly used crystals are selenite, clear quartz, or black tourmaline. Alternatives are smokey quartz, labradorite, or amethyst.
Crystals are a great additional tool to support your Tarot reading and experience. They help you clear the deck and mind, which leads to more accurate readings. Cleansing your Tarot deck with crystals is easy when you get the hang of it. You got this!
CRYSTALS TO CLEANSE TAROT CARDS
First of all, let's take a look at why cleansing your Tarot deck might be a great thing to do. Cleansing is a vital practice if you use your cards as a divination tool. If you're not, cleansing might not be as crucial as you're not working with energies in the same sense. 
So with that out of the way, let's take a look at how to cleanse your cards if you use them in our divination practice. Crystals are very beneficial and help you to get the most out of your readings and keep your deck charged at all times. They help the reader to get a clear mind. They also promote your intuition and general flow. 
Tarot decks absorb energy from everything surrounding it; readings, the area where it is stored, the people handling it, your emotions (vibrations), and the Ether surrounding it.
If you don't cleanse your cards from time to time, you might experience less accurate readings due to residual energy stored in your deck.
WHEN TO CLEANSE YOUR DECK WITH CRYSTALS
When do you need to cleanse your deck? This can be a tricky question as you have to rely on your gut feeling and intuition. This might be hard when you are just starting and don't have much experience (yet!).
As a general rule, you should cleanse your Tarot deck with crystals if you get inaccurate readings. Other scenarios where you benefit from cleansing your cards are; when you get a new deck, have been traveling, other people than you have been handling or using the cards, or feel disconnected from your readings. 
There are occasions, though, where you generally benefit from cleansing the deck.
First of all, when you get a new deck. You have no idea where it's been stored, who touched it, the vibrations it soaked up during transportation and storage, the list goes on. 
Another scenario is if you experience wonky readings or feel disconnected from your deck. By this I mean, when you feel like you have issues getting into your usual flow.
Cleanse your Tarot deck with crystals after emotional readings or if you have traveled with your deck. Maybe you have been at a psychic fair or alike.
Another scenario when it might be a good idea to cleanse your deck is if someone else then you touched or used the deck. Energies and vibrations quickly transfer to the deck. These energies can affect you more than you think. Keep an eye out for this. 
If you had a heavy or emotional reading, it is always a great idea to cleanse the cards. Lots of residual energy will pass on to the cards. These energies might linger for a long time if the deck is not properly cleared and charged. 
My recommendation is always to store your tarot deck with a crystal or two. In that way, you're sure to get a clear deck every time you do a reading.
Another scenario is if you have been depressed, upset, or angry. Strong emotions pass on to the deck. The same goes if you have been sick in some way. 
Below you will find a list of general occasions where it might be beneficial to clear the cards.
WHEN TO CLEANSE YOUR TAROT DECK
When you get a new Tarot deck
Inaccurate readings
A disconnected feeling during readings
Problems getting into a state of flow
After traveling
If you relocated to a new home
Someone else touched your cards
Someone else used your cards
If you have been sick or depressed
Heavy and emotional readings
This is my Rackham Tarot deck, along with my beloved selenite and clear quartz. It doesn't need to be more complicated than this.
BEST CRYSTALS FOR CLEANSING TAROT DECKS
Well, when we know why and when to cleanse your Tarot deck, it's time to take a look at what crystals to use. As a beginner, my recommendation is to use selenite and clear quartz.
This is also the common consensus polling peers. I asked, "What crystals do you use when cleansing your Tarot deck." 28 Tarot readers from the Tarot subreddit answered the query.
I summarized the findings in the table below. Even if the poll was limited, it indicates that selenite and clear quartz are the most commonly used crystals for cleansing Tarot decks, even if other crystals were used.
Depending on the needed properties, you can alternate crystals when you get more experience.Show 102550100 entriesSearch:
| Users | Crystals | Properties |
| --- | --- | --- |
| 10 | Selenite | Energetic purification |
| 8 | Clear Quartz | Expanding consciousness |
| 5 | Black Tourmaline | Protection |
| 3 | Labradorite | Protection |
| 2 | Amethyst | Intuition |
Selenite and clear quartz are the best crystals for cleansing your Tarot deck. 35 % of Tarot readers use selenite as their go-to crystal for cleansing. Alternatives are black tourmaline, labradorite, and amethyst.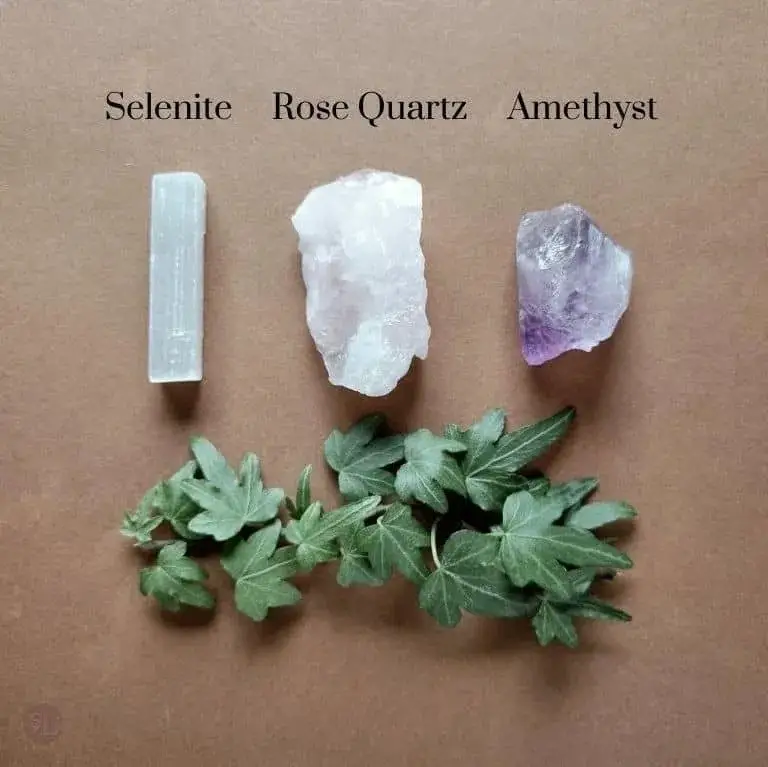 The pictures above are a picture of selenite, clear quartz, and alternative crystals with more targeted properties. As your experience with crystals grows, you will find supporting crystals to add to your repertoire. 
CLEAR QUARTZ
Clear quartz is known as a "master healer." It clears negative energy and opens your "third eye." Clear quartz is also an excellent crystal for amplifying your psychic abilities, which come in handy during readings. This makes it such a perfect crystal to keep in your reading area along with your deck. 
When you look at the crystal, you get a feeling of pureness and clarity. I love holding it in my hand and just letting the vibes flow. 
As the clear quartz absorbs energy, it's essential to clear the crystal from time to time. It works hard shielding your deck and needs to be reset to keep crisp and sharp. 
To clear your crystal, hold it under running water for a minute or two. Do this as often as your intuition tells you to.
SELENITE
Selenite is an excellent crystal for energetic purification. It also cleanses the aura, which makes it perfect for cleansing decks. Selenite adds positive energy and shifts feelings of heaviness to lightness. It promotes access to Higher Knowledge.
Selenite is one of the best power chargers for crystals, so use it to charge dull crystals as well. 
Selenite removes lower vibrations and transforms them into higher ones. 
As it is a bit brittle, be sure to handle your crystal with care. The best way to clear selenite is to put it in the direct moonlight. Don't clear it under running water. 
LABRADORITE
This is a potent crystal that protects against negative energies and entities. It has magical properties and promotes your psychic abilities. The crystal is used as a talisman for healers. 
Labradorite is perfect if you have heavy and negative readings. It will clear the space and neutralize it. Be sure to cleanse your labradorite from time to time as it absorbs that energy and stores it within. Cleanse your crystal under running water or in rainwater. 
BLACK TOURMALINE
I recommend adding Black Tourmaline to the mix if you are dealing with negative energies. It works like a shield from harmful energies. It purifies the space and keeps you protected even if you meditate or let your guard down during a reading.
It will keep your room, you, and deck optimized for great readings. I use a tourmaline pendulum or bracelet.
Are selenite and clear quartz the only crystals to use for cleansing? No, of course not; with time, you will find crystals that work well with your unique vibes and that you feel a strong connection to. It's like everything with Tarot; you do you! 
HOW TO CLEANSE YOUR TAROT DECK WITH CRYSTALS
Cleansing your deck with crystals is an excellent option if you are a beginner reader. It's straightforward to learn.
When you need to cleanse or charge your deck, place the crystal of your choice on top of your Tarot deck. You can also put the crystals inside your box or bag. If you want to, you can clear your reading area similarly. Place the crystals on your altar or table or other area you find suitable.
For added "power," place both deck and crystal on the window shelf overnight, and let the moon charge your crystal and deck. In the morning, your deck is ready to go.
I use this technique with the decks I use in my tarot readings for clients. This ensures that the deck is not absorbing energies from former clients. 
WHERE TO BUY CRYSTALS
I get questions about where to buy crystals. You can buy crystals online, in physical stores as metaphysical shops and alike. Today you might find crystals in your health food store. 
The benefit of buying crystals in a physical shop is that you can hold them in your hand and "feel them".  The benefit of buying them online is that you can find specific types of crystals, maybe not be found in your local crystal shop.
My best recommendation is not to overthink your purchase but go with your gut feeling. This applies both to online and physical shopping. Crystals have a way to "talk" to you. They find you, not the other way around.
My favorite place to buy crystals is on Etsy and Amazon. On Etsy, you find high-quality crystals from sellers with a love for crystals. My favorite shop is Eagle Crystals (link to Etsy). Most of my crystals are from this shop.
I bought a tarot crystal set from the shop, which I really adore. As it's a small shop I can't guarantee that the set will be available all the time. 
FINAL THOUGHTS
Cleansing your Tarot deck with the help of crystals is perfect if you're a beginner. It's easy to do and pretty straightforward. When you get into the habit of clearing and charging your cards, you will experience a deeper connection with your cards over time. 
The best crystal combination to start with is clear quartz and selenite. The crystals are easy to get your hands on. Buy them online or in your New Age store.
As you grow as a reader and gain more experience, you might expand your repertoire of crystals. You will find your favorite ones.
We all have different energies and vibrations, so we need various crystals to optimize our energy fields. You can always ask a crystal healer or professional for advice. 
I recommend you find a shop where you feel connected with the seller. In that way, you can get the best advice on what crystals you need. 
As mentioned at the beginning of the article, you don't need to clear your deck with crystals if you don't want to. It's as always up to you to choose how you use the cards. But try it once at least; you might love it as much as I do. 
THE DEFINITIONS IN THIS ARTICLE ARE BASED ON THE RIDER WAITE DECK AND SYSTEM.