Your spiritual friend's birthday is up, and you wonder if it's ok to gift a tarot deck. You have seen so many beautiful decks at the book store. This would be the perfect gift, but you don't want to look like a fool breaking any "rules."
As a general rule, you can gift a tarot deck to someone else. 83% state they have gifted a tarot deck. There's no rule in modern-day tarot practice that states it's not ok to gift new or used tarot cards. 
There's a lot of myths regarding buying tarot decks for others and yourself. It's hard to know what is true or total bunkers. You will learn everything you need to know when purchasing decks for others by the end of this article. 
CAN YOU BUY A TAROT DECK FOR SOMEONE ELSE?
As a general rule, you can buy a tarot deck as a gift without any problems or awkward looks. There's an old myth that you can't buy a deck for yourself that sometimes gets mixed up with gifting decks. 
The old-fashioned myth that you will be struck with bad luck or lying tarot cards if you buy your deck is obsolete.
So, in the light of this old myth, being gifted a tarot deck is the only way to get your hands on a tarot deck. With this in mind, you can rest assured that you will not break any "rules" or "traditions" gifting a tarot deck, quite the opposite!
When I started my tarot journey, I believed the old debunked myth that you could only use a tarot card that you have been gifted. I waited and waited… But finally, I got bored and bought my own deck. I just didn't want to wait like an old maiden. 
So if you want to come along as an initiated spiritualist, gifting a tarot deck is a great idea! If you have a friend that is stuck in the old myth that you need to be given a deck, let him or her out of her misery. You will be dubbed a hero, I promise!
If you want to learn more about the ancient myth that you need to be gifted your tarot decks – check the article I wrote on the subject below!
WANT TO LEARN MORE?
Do I need to be gifted a tarot deck?
83% HAS GIFTED TAROT DECKS
I asked a tarot community on Facebook if they ever gifted decks. In total, 64 tarot readers answered the poll. It turned out that 83% had gifted decks. This is a clear sign that it's not breaking any rules or praxis.
If tarot readers gift decks themselves, it should be totally fine to do. The most common thing to do was gift an old deck. These answers do not surprise me as we talk about initiated tarot readers. They probably gift decks they don't use themselves. 
I summarized the findings in the table below.
| Answer | Number | % |
| --- | --- | --- |
| Gifted an old deck | 32 | 50% |
| Yes | 21 | 33% |
| No | 9 | 14% |
| Don't remember | 2 | 3% |
CAN YOU GIFT USED TAROT CARDS?
Yes, you can gift used tarot decks. 50% stated that they gifted a used tarot deck in the poll above. No rule or praxis restricts gifting used decks in modern-day tarot practice.
As a general rule, you can gift a used tarot deck. According to a poll, 50% have gifted a used tarot deck. If the recipient is a reader that performs divination, you can cleanse the deck before giving the deck as a friendly gesture.
If you have a tarot-loving friend that collects decks, used decks might be the only way to go at times. Many tarot deck collectors drawl for old and rare decks. I promise you; there's nothing wrong with gifting a used deck. 
One thing to keep in mind if your friend is practicing divination. Divination is when they call upon external energies, as Spirit guides or other entities or energies.
If so, it's a friendly gesture to do a speed-cleanse of the deck before gifting it. I recommend a sea salt cleanse if you're not into spiritual rituals and alike.
The residual or attached energies will be removed when you cleanse the deck. This ensures the readings will not be skewed in any way.
HOW TO CLEANSE THE USED TAROT DECK WITH SALT
You need a bowl or plate, salt, and a used tarot deck.
Fill the bottom of the plate or bowl with salt.
Place a cloth or paper on top of the salt.
Place the tarot deck on top of the cloth or paper.
Let the deck rest for a couple of hours.
The tarot deck is cleansed and ready to be gifted.
Fill a plate or bowl, large enough to fit the deck, with some salt. You do not have to fill the whole bowl, just the bottom of it. If you have sea salt, it's a plus, but if not, table salt is a great option too.
Place a cloth or paper on top of the salt and place the deck on top. Be sure the deck does not touch the salt as it can damage it. Let the deck be for a couple of hours.
The tarot deck is ready to be gifted to your friend, and they will be very impressed when you tell them you did a sea salt cleanse to get it prepared for them. 
I have written an in-depth article with photo prompts if you need more information. You find the link below in the box.
WANT TO LEARN MORE?
How to cleanse your tarot deck with salt.
TIPS AND TRICKS GIFTING TAROT DECKS
If you're gifting a tarot deck to a beginner, my best bet is to go with a Rider-Waite deck. This is a "standard" tarot deck, and you find lots of information online about how to read the cards and so on.
There are many different styles and moods of the Rider-Waite deck. You can most definitely find a deck geared towards your friend's taste. 
Below you find three popular Rider-Waite decks with different styles (Paid links – Amazon).
THE ORIGINAL RIDER-WAITE TAROT DECK
The Original Rider-Waite deck is the go-to for beginners. This tarot deck includes a booklet with card meanings and basic spreads. You also get an insert with the classic Celtic Cross spread with the card positions and meanings. The tarot deck is classic, and the cardstock is high-quality.
I have been using my Original Rider-Waite deck for a long time, and there's like no signs of wear and tear. I often do casino shuffles which tend to be more tearing to cards overall.
This is the deck I recommend for anyone that wants to learn the tarot. Below are pictures of my deck. I added a link to the tarot deck on Amazon (Paid Link – Amazon)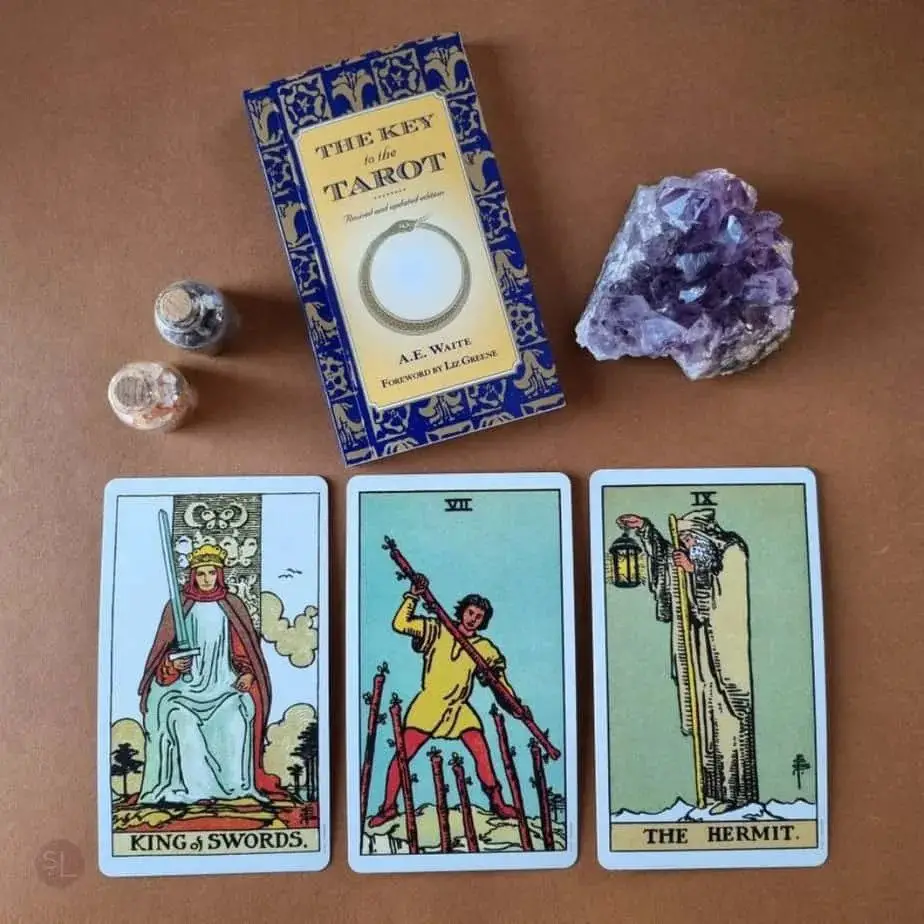 TAROT VINTAGE
If your friend loves the moody vintage look, the Tarot Vintage deck might be a great match! 
The Tarot Vintage is a vintage version of the classic Rider-Waite deck. The images are a bit duller, and they have a worn look. 
The card stock is high-quality, and I have used my cards a lot without showing any wear and tear. The cards are sturdy and will last a long time.
The set includes a booklet which I find very good. The card meanings are very on-point and condensed. 
This is my personal favorite among my Rider Waite decks. The images are harder to decode as the colors are a bit duller than the Original Rider-Waite deck. But I don't think it will hamper a beginner that much.
In the pictures below is my tarot deck. I also added a link to it on Amazon (Paid link – Amazon)
RADIANT RIDER-WAITE TAROT DECK
The Radiant Rider-Waite tarot deck is a perfect choice for beginners as it has very vivid colors, making it easy to notice all the details in the cards. 
I love the handy size; they are a little smaller than "regular" tarot cards. They are more like playing cards. I find them easy to shuffle, and the text on the cards is easy to read.
The set includes a booklet and a handy tin box. The tin box makes them easy to bring on travels, client readings, and alike.
WANT TO LEARN MORE?
Is the Rider-Waite tarot deck great for beginners?
BEST RECOMMENDATIONS FROM US GAMES
I asked U.S. Games Systems Inc for their recommendations for gifting tarot decks. US Games System is a manufacturer and seller of tarot cards. As they sell many decks a year, I guessed they had great data on bestsellers and favorites. 
One would be the standard Rider Waite deck, or any of the other decks we have that are based around it, (Radiant Rider Waite, Plastic, Giant, etc.) Our Crow Tarot is incredibly popular! Also, our Universal Waite-themed decks seem to always sell very well too!

U.S. Games Systems Inc
US Games Systems also recommend the Rider-Waite decks for beginners. The Crow Tarot is a fantastic deck that I adore. It's a bit harder for a beginner to use, as the imagery is more complex. The deck is in a Rider-Waite style, though, following its systems and card meanings. The link goes to the US Games Systems webshop.
GIFTING A DECK TO A SEASONED TAROT READER
If you are gifting a tarot deck to a seasoned tarot reader, the Rider-Waite deck is maybe not the best option. There is a significant risk your friend already owns it. 
You can ask the recipient if there are any specific decks they crave. Even though you might risk spoiling the surprise, they understand why you ask.
There are several different "schools" of Tarot; a great thing to know is if they read with the Rider-Waite, Tarot de Marseille, or Thoth system. This is key for getting a deck they can use right of the bat. 
Great questions to ask:
Ask what deck they crave
Ask what kind of cards they read (RWS, TdM, or Thoth)
A tarot deck is a very personal thing, and the most important thing is that you feel a connection to the imagery on the cards.
Ask for help and direction when you purchase the deck. The clerk in the shop should be able to help you select a suitable deck in the right "school."
If you don't want to spoil the surprise, you can always purchase a gift certificate!
WHERE TO BUY NEW TAROT DECKS
There are lots of places to buy a tarot deck. You don't have to go to the New Age shop to fetch a deck of cards (if you don't want to, of course). Some feel a bit out of place if not initiated in the spiritual world.
I often buy decks online as it is convenient. But you can also purchase tarot decks in bookstores, used bookstores, and even toystores (in the board game department).
Here's a list of places you can buy a tarot deck online.
When you buy tarot decks online, check that you don't get a counterfeit deck. This can be an issue on some platforms. If the price seems too good to be true, it often is.
The quality of a counterfeit deck is often not as good as a "real" one, and you are not supporting the artist who created it. This is a very sensitive issue in the tarot community (for good reasons).
Here's a list of places you can find tarot decks:
Local bookstore
Used bookstore
Flea market
New Age store
Toystore
I love tarot decks from used bookshops. They are often vintage and sometimes rare. This is a great gift for a tarot nerd.
IN SUMMARY
It's a great idea to gift a tarot deck. No rule or praxis is preventing you from this. Sometimes the old obsolete myth that you can't buy your deck echoes to mean the opposite.
If you're gifting a tarot deck to a beginner, the Original Rider-Waite deck is a great option. There are tons of reference books and sites about this deck.
Other decks might be harder to find information about. The booklets in some decks are complex for beginners to understand as they assume you know the basics already.
If you are gifting a deck to a seasoned reader, it might be easiest to buy a gift certificate. In this way, they can choose the deck they crave and feel connected to.
If you're gifting a used tarot deck to a friend using it for divination, you can efficiently perform a cleansing of the cards. Place the cards on top of salt for a few hours. This will be greatly appreciated.
You can buy tarot decks online or in local shops. There are no age restrictions on tarot decks. If you want to learn more about gifting tarot decks to minors, I have written an article about this. You find it in the link below. 
THE DEFINITIONS IN THIS ARTICLE ARE BASED ON THE RIDER WAITE DECK AND SYSTEM.