Sometimes it might feel a bit overwhelming learning the Tarot. Is there another way to tap into the magical work of card readings without understanding the systems, card meanings, and rituals of the complex Tarot? Let's discover the wonders of Oracle cards.
Oracle cards are great for beginners as the learning curve is lower than Tarot. Oracle cards bring general overviews and guidance, and often lack the shadow side that the Tarot inherit. Oracle cards often bring positive energy through affirmations. 
Oracle cards and Tarot are both wonderful tools for self-discovery and growth, but the Oracle cards are recommended if you want an easy and smooth start. Tarot is more complex and it takes time to learn. With Oracle cards, you can start reading right away. 
ARE ORACLE CARDS BETTER FOR BEGINNERS?
If you are a beginner with little to no experience and want to enjoy the world of card reading, Oracle cards are a great option to start with. As Oracle cards don't have complicated systems, it's easier to get going right away. The Tarot requires knowledge card meanings and structures which can be a bit intimidating just starting your card reading journey.
The messages you receive from the Oracle cards are often optimistic. This brings joyful insights that strengthen and nourish. In my experience, this is a great way to start learning card reading, as it is a positive and strengthening experience. The Tarot gives more complex and challenging messages, which can be hard to soak in as a beginner spiritualist.
The challenging messages from the Tarot can be hard to work through alone as a beginner reader if you are an emotionally sensitive place in your life journey. Oracle cards bring affirmations and general guidance, which to many feel reassuring and uplifting. 
The messages received from the Oracle cards are often optimistic. This brings joyful insights that strengthen and nourish. In my experience, this is a great way to start learning card reading, as it is a positive and strengthening experience.

Sandra Törnroth
Oracle is an excellent starting point as it is beginner-friendly and flexible. This allows you to explore your spirituality and emotional baseline. By this, I mean that you discover your strengths and weaknesses. This will be very beneficial if you want to learn the Tarot later on. You will have a much easier time deciphering the more complex messages of the Tarot with self-knowledge. 
One important thing to know is that you don't have to choose Oracle or Tarot – you can do both. I began my card reading journey with Oracle cards. While reading Oracle cards, I started to tap into the Tarot as well. For me, it was easier to grasp the essence of card reading as I was already used to Oracle readings.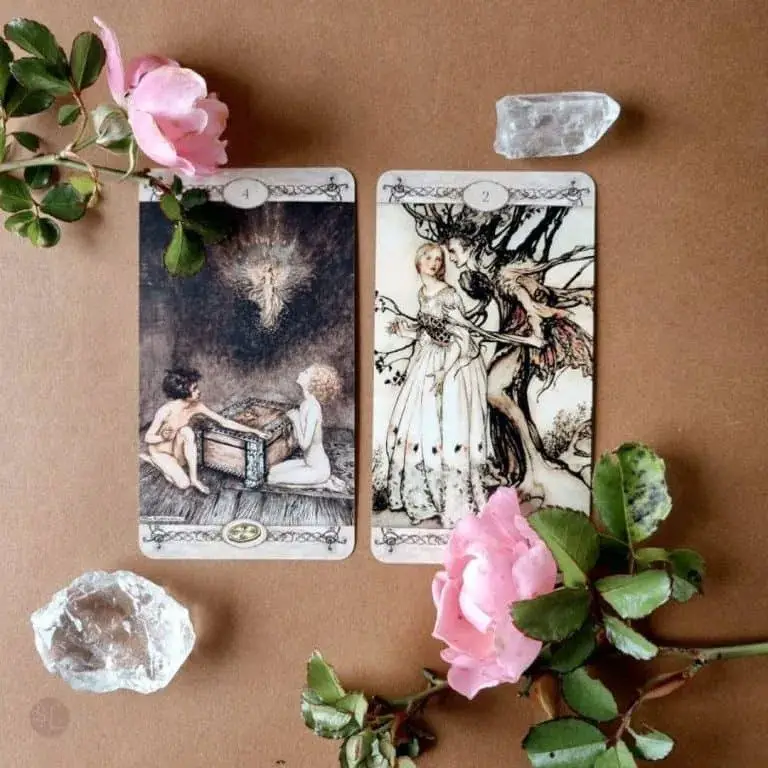 ORACLE CARDS ARE A GREAT ENTRY POINT FOR LEARNING THE TAROT
As a professional Tarot reader, I include Oracle cards in the readings when appropriate and needed. Oracle cards are an excellent complementary tool to the Tarot as it gives positive guidance and energy to a message. 
Even if Oracle cards are recommended for beginners, the messages are not as deep as the Tarot. Oracle readings are very powerful, helpful, and important – don't get me wrong. The systems are just different – they both have their strengths and weaknesses. You are not less of a card reader if you use Oracle cards. There is no upper or lower league. It all depends on what you are searching for in a reading. 
WHAT IS THE DIFFERENCE BETWEEN ORACLE AND TAROT CARDS?
To understand why Oracle is a great tool for beginners, it's helpful to know what makes them different from the Tarot. As a beginner, it can be a bit confusing. Below you find the main differences between Oracle cards and the Tarot. 
THE DIFFERENCE BETWEEN ORACLE AND TAROT
Tarot:
Complex deck system
Set card meanings
Standardized symbolism
Memorization needed
Insights into the subconscious and unconscious mind
Knowledge of card spreads needed
Appropriate queries needed
Light and shadow work 
Takes time to learn
Oracle cards:
No set deck structure
No set card meanings
No need for memorization
No need to use card spreads
Positive and reassuring messages
Great for daily guidance
Lots of different themes are available
Spirit and Angel guidance
You can get started right away
ORACLE DECK STRUCTURE
Tarot has a complex system with set card meanings, symbolism, and deck structure. This is something that the Oracle decks don't have. While Tarot has 78 cards, Oracle decks do not have a set number of cards; it can range from just a few to over a hundred. This makes it easier for a beginner. You don't have to learn any system or structure to get started.
ORACLE CARD MEANINGS
Oracle cards have meanings printed on them. As the Tarot cards do not have these "prompts," it's a lot harder for a beginner to understand the message. You have to memorize the meanings of the Tarot cards or look them up in your reference book. This makes the reading process a bit more frustrating as a beginner. 
As Oracle cards don't have the same learning curve, you can get started right away. This is not the case with Tarot. This is why Oracle cards are an excellent alternative for inpatient beginners. You can tap into the ether without hours of study. 
ORACLE INSIGHTS
The Tarot gives you deep insights and unlocks information stored in the subconscious and unconscious mind. A Tarot reading is complex and you need to connect the card meanings in a spread to gain access to the message. This is not the case with Oracle cards.
You pull one Oracle card and reflect on it. No complicated rituals or spreads are needed as in the case with the Tarot. Oracle cards are great for general guidance and reassurance, while the Tarot pokes around in parts of your mind that might feel uncomfortable at times.
The Tarot is more emotionally challenging than Oracle. This is not always the case, of course. Many Oracle cards have positive affirmations and are centered around Spirit or Angel advice. The Tarot gives you both light and shadow, while Oracle usually focuses on the light.
I love pulling Oracle cards for daily motivation and energy-boosting as I tend to struggle with low self-esteem at times. This is something the Tarot can't give me in the same way.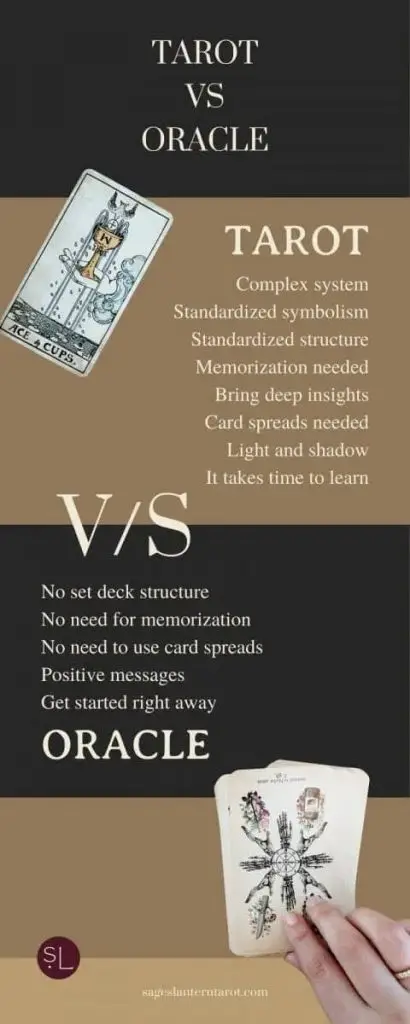 IN SUMMARY
Oracle cards are great for beginners who don't want to invest hours of learning. Oracle cards are beautiful tools for daily card pulls as they (often) motivate you and bring you good vibes. You don't have to have experience in card reading or know complicated systems to get started. 
Oracle cards have properties the Tarot lacks, and vice versa. It's essential to know the difference between the two to know what reading you will benefit from most. The two kinds of card reading are equally necessary to support your body, mind, and spirit. 
I love the positive energy and the reassuring feeling I get when I read my Oracle cards. Sometimes I need love and understanding more than anything else. I don't need deep insights, just a friend by my side.
Oracle cards are my instant connection with my Spirit Guides. The Tarot, on the other hand, acts as the connection to my inner knowledge. 
Let's embrace the lovely properties of Oracle cards. They are here for a reason. To help us love ourselves and heal from negative thoughts and energies. The Tarot is our spiritual mentor. Both are equally important and beautiful.
THE DEFINITIONS IN THIS ARTICLE ARE BASED ON THE RIDER WAITE DECK AND SYSTEM.