You want to learn tarot, but are unsure if you can do it by yourself or if you need to take classes or have a teacher. Maybe you are not into paying a lot for classes or just want to do it on your own. We all have our reasons and personalities.
As a general rule, you can learn the tarot by yourself. According to a poll, 36% of tarot readers learn the tarot on their own. The most common ways of learning are through books or the internet. The most popular learning online platform for self-learning is YouTube.
Learning the tarot can be done in many ways, and all readers have their unique path. According to a poll, the most common method of learning the tarot is reading books or online resources. If you want to dig deep into the subject, an online class might be a great alternative as well.
HOW TO LEARN TAROT ON YOUR OWN
Is it possible to learn the tarot by yourself? Yes, of course, it is. With the internet by our feet, you can know anything if you just put your mind and heart into it. Tarot is no exception. There are many ways you can learn the tarot by yourself; online classes, books, the internet, and audiobooks. The hard part is sometimes to figure out what way is the best one for you. 
In this article, I have gained insights into how tarot readers learned tarot by polling a large tarot community online. 36% of the tarot readers learned the tarot by themselves, with the help of books and sometimes teachers. 18% stated they learned the tarot through books.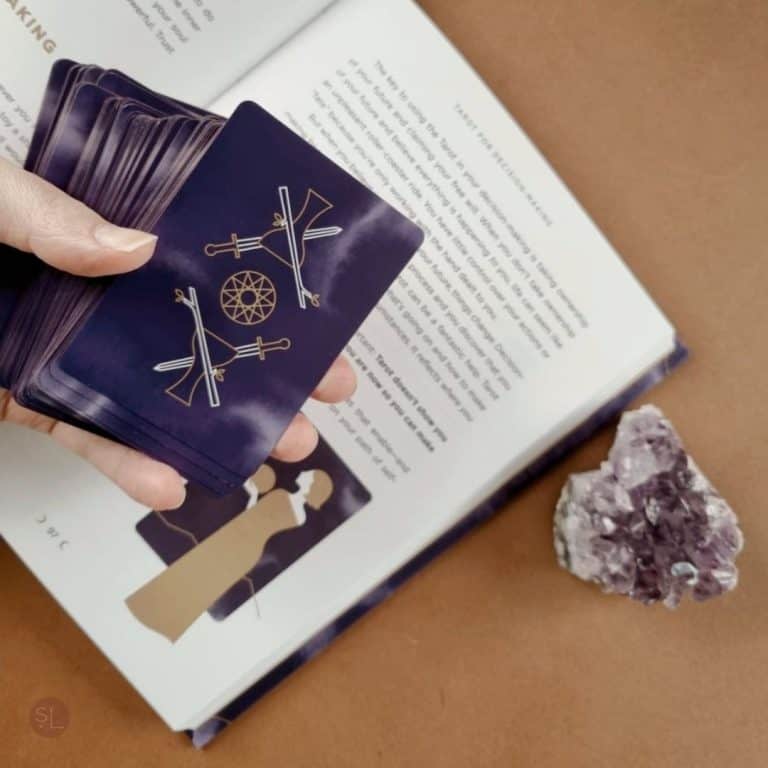 36% LEARNED THE TAROT BY THEMSELVES
To find out if it's common to learn the tarot by yourself and what method was used, I polled a Facebook community, Tarot Tarot Tarot (Link to Facebook Group). I got 349 answers in the poll (at this moment in time). The readers can leave several responses, so the total number of participants is unknown. 
The majority, 36% of the tarot readers, stated they learned the tarot by themselves. This is an excellent indicator that this is a widespread method, even if the answers might be somewhat skewed due to open question in the poll.
The most common resource for learning by yourself was books. This is how I experience it myself. Most of my friends practicing the tarot learned it themselves, with a combination of books and the internet. I'm also taking online classes. 
Below you find a screenshot of the poll.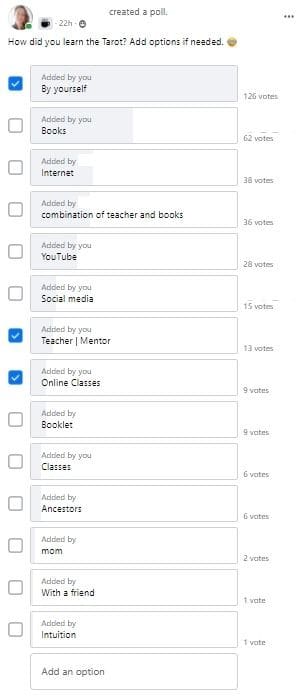 I made a table as the picture got a bit blurry. As you see learning by yourself is the winner, followed by books and the internet. 
| Learning | Number | % |
| --- | --- | --- |
| By myself | 126 | 36% |
| Books | 62 | 18% |
| Internet | 38 | 11% |
| Combination teacher and book | 36 | 10% |
| YouTube | 28 | 8% |
| Social Media | 15 | 4% |
| Teacher | Mentor | 13 | 4% |
| Online Classes | 6 | 2% |
| Booklet | 9 | 3% |
| Classes | 6 | 2% |
| Ancestors | 6 | 2% |
| Mom | 2 | 1% |
| With a friend | 1 | 0% |
| Intuition | 1 | 0% |
THE MOST COMMON WAY TO LEARN THE TAROT
There are different ways you can learn the tarot nowadays. You don't need a teacher or attend classes anymore if you don't want to, of course. Those days are gone. With the help of the internet and books, you can learn the basics and get started.
There are great websites and online forums where you can learn the tarot as well. These places are great for self-learning at your own pace.
YouTube is an excellent place for self-learning as well. The best thing about it is that it's free. You get access to many different styles of reading the tarot. One other important thing is, you can follow a reader your personality clicks with. 
If you want to learn all the nitty-gritty and get personal support along your way, an online class might be the right option for you. There are online classes at all price ranges.
Depending on your preference and style, there are lots of options available. You don't even need to leave your house if you want to learn the tarot by yourself.
BOOKS 
As books were the most common way of learning the tarot on your own, I asked fellow readers what books they loved the most. This is to get a more nuanced answer. I asked in the Tarot subreddit, as I know a broad spectrum of readers is active there. The tricky thing with recommending books is that there are so many techniques and systems for the tarot. It's hard to generalize. I linked to Amazon if you want to check them out more in-depth (paid links). As I don't own all the books recommended in the subreddit, I used Amazon pics.
As the subreddit also has the best resource list, I recommend you take a look at it as well. You find it here (Link to the resource page on Reddit)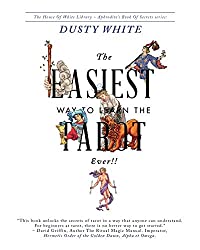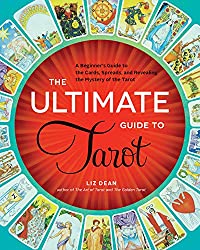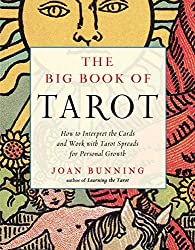 The "Big Book of Tarot" by Joan Bunning is a book I don't own but read. I bet you find it in the library, as it's very popular. It's very helpful and brings you the basics so you can get started. 
The "Ultimate Guide to Tarot" is another book I read as well but in Swedish. It's also a great book for learning the basics, but I found it a bit more mainstream and shallow than the "The Big Book of Tarot". 
"The Easiest Way to Learn the Tarot" by Dusty White is a book I haven't read myself but heard a lot about in the Tarot community. So, unfortunately, I cannot give you any personal insights into that book (at this moment).
Don't panic too much about what book you think is best or easiest to follow. The only way to learn the tarot is to actually get started. So i you're on a budget, head over to the library! As you get more experience you will find what books you are drawn to. 
My personal favorite is the e-book "The Ultimate Guide To Tarot Card Meanings" by Birgit Esslemont. The book is also available in a paperback.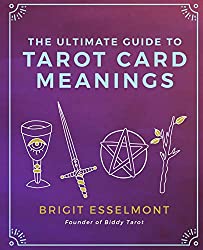 IN SUMMARY
The most common way of learning the Tarot is learning it through books and the internet. There are great books out there for anyone interested in learning the Tarot. It's hard to generalize which book is the "best one," as there is no "rule" on reading it.
The best way is to learn the tarot card meanings first and then get into the different movements. As you grow more confident in your reading style, you will automatically be drawn to a tarot school that fits you.
Have fun and enjoy the process of learning the Tarot. It's a part of your spiritual growth, and it's not a race but a marathon. Start by visiting your local library or get some books from Amazon (or alike). Enjoy the magical and wonderful world of the Tarot. 
THE DEFINITIONS IN THIS ARTICLE ARE BASED ON THE RIDER WAITE DECK AND SYSTEM.